This is the first in a series of articles celebrating the great tradition of summer drive-ins!
By Susan Dove
In search of the best………
Drive-Ins are alive and well in Cayuga County.  What better place to celebrate the onset of summer!
Cayuga County alone has almost a dozen drive-ins.  But these days, a drive-in does not necessarily fit the true definition of a drive-in.  According to Merriam Webster, a drive-in is an establishment (such as a theater or restaurant) so laid out that patrons can be accommodated while remaining in their automobiles.  Not so much, for the drive-ins I have been to around here!
This summer I am visiting drive-ins all over Cayuga County in search of the best butter pecan ice cream (hard ice cream) and the best soft-serve chocolate!  I have lots of experience with drive-ins as I grew up next to Skan-Ellus Drive-In between Skaneateles and Marcellus, and worked there all through high school and college.  As kids, my siblings and I lived on bar-b-q burgers, skan-ellus burgers, and of course chocolate ice cream!
My first stop on this yummy exploration is D&B's Drive-In in the Village of Weedsport.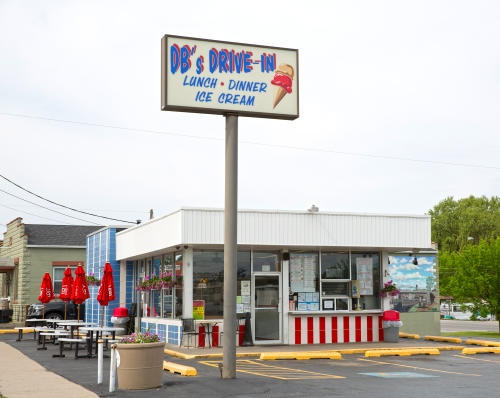 D&B's is located right on Main Street in the Village of Weedsport.  It has ample parking, with indoor and outdoor dining.  The dining area indoors is rather small with just 4 or 5 booths. Outdoors, there are lots of picnic tables along with a Gazebo where you can sit under cover to enjoy your ice cream. There is a large, grassy area that would accommodate 15-20 guests if you wanted to meet a bunch of your friends there to have a meal, or just enjoy an ice cream cone!
On the Friday afternoon when I visited D&B's, it was packed with guests, enjoying lunch and dessert, even though the sun was nowhere to be found.  I read a review online that said the clam strips were very good, so I decided to try just those, as I wanted to save room for that butter pecan ice cream.  The clam roll was excellent, but I was disappointed to find out they only had maple walnut ice cream.  No butter pecan.  The hard ice cream is made by Perry's and I know their ice cream is always good. So no worries, I tried it any way.  Topped with chocolate sprinkles it was delicious. 
The staff was very friendly and the place was spotless.   So as you are in search of the best……..ice cream, hamburger, french fries, milkshake, sundae……or any of the yummy foods at D&B's Drive-In, I would highly recommend you give it a try.
An added bonus is the mural of the Erie Canal on the building right next to D&B's.  Weedsport has several murals.   There is another one right up the street next to the Old Erie Restaurant.  Beautiful!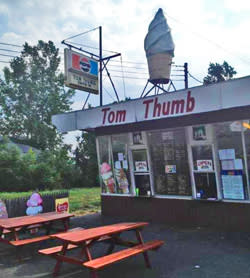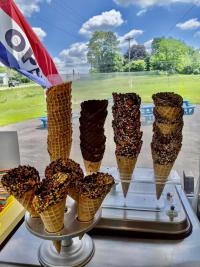 If you want to try some of the places I will be checking out this summer, try Reese's Drive-In in Aurelius, Classic Cones on the west side of Auburn, Pete's Treats in Union Springs, or Tom Thumbs and Green Shutters in Owasco! 
Enjoy!