Do you love fall? Brightly colored leaves? The majestic feel of a brisk day? Stop reading, get into your car, and immediately drive to the park closest to you—now. Peak season for Central New York is the third week of October. This weekend, October 22 and 23, Fair Haven is hosting their Annual Leaf Peepers Weekend.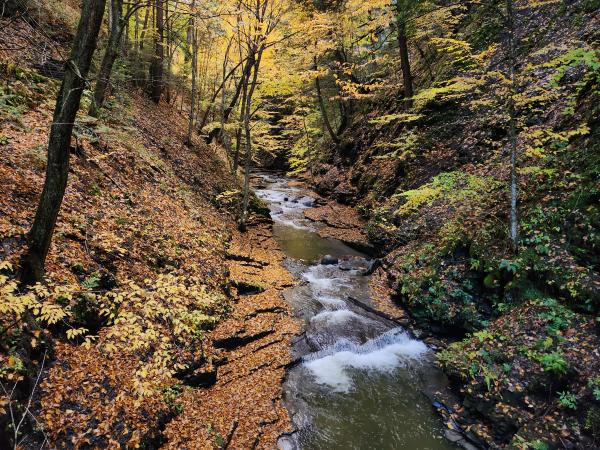 Long ago, I planned a for a long-weekend the second week of October to conquer the Cayuga County State Park Challenge and I'm writing this less than an hour after arriving home from the third and final park. While there are plenty of Cayuga County, town, and village parks to check out this fall (and all seasons), take a moment to enjoy our State Parks while the colors are vibrant.
If you're like me and yellow to golden leaves are your favorite, go to Fillmore Glen and follow the 'yellow leaf trail.' The drive alone is worth the trip and while the landscape is speckled with greens, oranges, browns, gold, and reds, once you're on the trails you're surrounded by yellow. The sun passing through the leaves washes everything is a light-yellow hue with golden leaves covering the ground and clustering along sides of the glen as the water passes through the center—it is truly magical. We went up the North Rim Trail to the Waterfall Loop, a lot of work has been put into making the stairs, bridges, and walkways safer and easier to navigate. After the Waterfall Loop we connected to the Gorge Trail to wrap up our trip. While a little muddy (please step with caution) and slightly chillier than the other trails, the views are the best on the Gorge Trail with the vibrant colors popping against the dark, wet stones.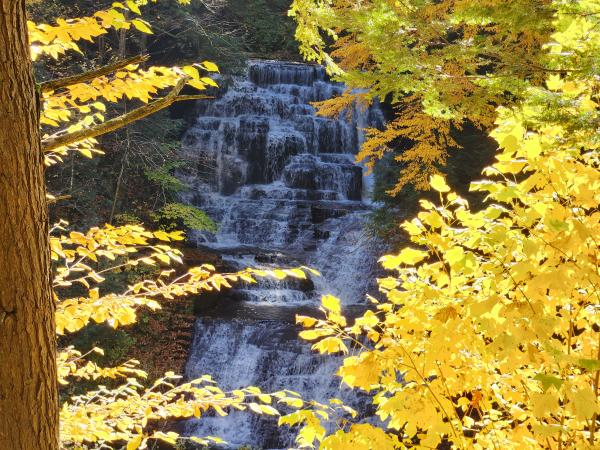 As this weekend was something we planned in advance, we decided that the perfect end to a beautiful fall hike was a massage and headed to The Spa at Inns of Aurora. If you're looking for tranquility, the best view of fall on display, and a water feature, this spot is for you. We topped off the day with dinner at 1833 Kitchen & Bar—the Blackberry & Blueberry Seasonal Crisp was delicious and naturally gluten free (could be vegan or dairy free by ordering without the ice cream scoop on top).
Does your perfect fall picnic area require colorful foliage, lake views, a playground, clean facilities, and a breeze? Pack your picnic, grab your family, and make your way to Long Point. Having passed through Auburn on our way, we grabbed salads from Wegmans to enjoy in the park. We hiked five miles at Fillmore Glen the day before and were looking for a more relaxed outdoor adventure at Long Point. We found a picnic table inside a small gazebo, under a willow tree, and being on a small peninsula pretty much guarantees an amazing lake view from any spot. While we ate, we watched a family fly a rainbow kite and run around on the playground. While there are four and a half miles of walking trails at Long Point, we strolled around for just over a mile and a half to search for a Yellow-Rumped Warbler and a stone with a hole in it while we took in all the colors before the breeze became just a bit too chilly for us.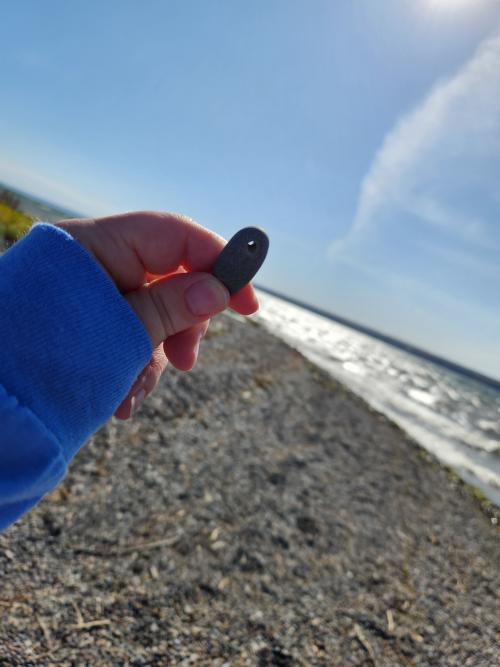 After a quick ice cream stop at Pete's Treats in Union Springs, we took a trip through the Montezuma Wildlife Drive where there was a bald eagle pestering a flock of Canadian geese. Having never been before, I took a right out of the drive and headed toward the Richmond Aqueduct Ruins in the Montezuma Heritage Park. It was beautiful and the trails are all well marked. However, if you're looking for a spectacular vibrant red and orange fall leaf display, the drive from the ruins to Ed & Jeans Market in Port Byron is where you need to go.
Are you seeking the perfect fall view from a kayak? Load up your 'yaks, paddles, and life preservers and head to Fair Haven Beach—after checking the weather to ensure there are no 'small craft' wind advisories in effect. We entered The Pond from the small boat launch beach and made our way up Sterling Creek roughly two and a half miles. Every bend in the creek brought you a spectacular display of fall foliage from greens and browns to vibrant yellows, oranges, and reds—if you have a chance to leaf peep from the water, make sure you put it on your to do list this week. During our paddle, we came across several Canadian Geese and ducks, what I think were some swans in the distance, and a mink! With the Heron rookery so close at the Sterling Nature Center, we were surprised to not see a Blue Heron this trip. The best part of our paddle was on the way back, when we were nearly to The Pond again, the water had stilled and allowed for the perfect mirrored image of the trees and their vibrant colors.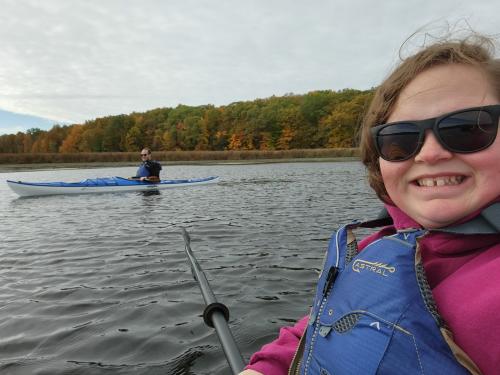 With a fifty-degree day, we were feeling pretty chilled and hungry after our paddle and headed into town. We stopped at Sweets by Sarah Bakery and my boyfriend picked up a famous one-pound cinnamon roll that he says tastes amazing! While she had just run out of gluten free treats, I was in couple days before and Sarah can make one delicious chocolate chip cookie. Still needing a treat of my own, we stopped at the Hardware Café & General Store for a latte and gluten free blueberry muffin, toasted with butter—I dream about these year-round. Made our usual stop at Bayside Grocery to check the River Rat cheese curd and whip selection before heading home to yard work.