This week, I hit one of my favorite farmer's stands in Cayuga County and picked up a huge pile of "aliens" or as you could call them – gourds. These gnarled and twisted, wart covered, multi-colored vegetables look like they come from some other universe, but they are perfect decorative accents during the fall season. They are a very inexpensive way to bring the nature and color of the Finger Lakes into your home.

I picked up an assortment of shapes, sizes, colors and textures. These will add a festive touch to my Halloween decorations and then deck out my Thanksgiving table. I often pile them up in a wooden bowl with a few apples. This both looks and smells good as the apples ripen. A quick wipe with a dry cloth and any dirt can be removed before you start your arrangement. After I am done with the gourds and apples, I toss them out in my garden and the birds and squirrels enjoy snacking on them. There might even be a seed that germinates next spring and I will have my own crop of aliens.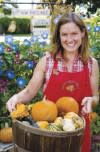 Largely inedible, gourds were domesticated by man over 10,000 years ago and were used for utensils like bowls and cups and also as musical instruments. Varieties range from the dolphin, crock neck, bird house, egg, bottle which resemble bowling pins, Turk's Turban and more. They can be the size of an egg or as big as a basketball. Colors vary from creamy white to bright orange to deep green with stripes, polka dots and all other design combinations imaginable!  There are even mini-gourds which look like miniscule pumpkins. Today, craftsmen around the world still use gourds for utilitarian purposes but also for jewelry and basket making.
Drive down just about any county road in the Finger Lakes, or stop into a Cayuga County Farmers Market and you will find your own supply of gourds. Be inspired by these invading, bizarre aliens!
---
Susan Marteney teaches Community Education classes at CCC and is a co-owner of Tuxill House, a European-style guest house in Auburn, an avid gardener and a community activist.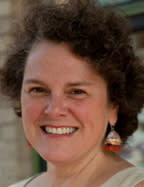 ---