If you're looking for your Suffragist Soul Sister, you already have some qualities that tie in with all these ladies. Passion and courage are among the attributes that unite these women together, then mix in a strong unwavering belief towards civil rights and the determination to stand behind a cause, and voila', pure magic!  The type that inspires a revisit to the classic Disney song: Sister Suffragette!  While you hum the lyrics you may wonder which Soul Sister are you most like?  Read on Sister, read on.
Frances Seward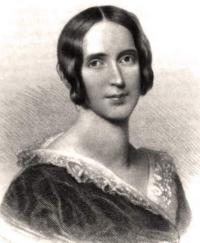 A woman of principle bound to do what's right, Frances Seward was known for being a free-thinker in support of new concepts in the 1800s such as the Women's Rights movement. Full of compassion, she was resourceful and used the basement of her home as a stop on the Underground Railroad. In a revolutionary move, her family sold property to abolitionist, Harriet Tubman. Frances would be your soul sister if you'd protest with the Black Lives Matter movement together.
Principles
Free-Thinker
Revolutionary
Resourceful
---
Martha Coffin Wright
Following in your older sibling's footsteps is never an easy thing, and when she is Lucrecia Mott, it is even harder, but leave it to the strong willed Matha Coffin Wright to do with style. Standing strong next to her sister, they stood out as prominent figures in the Suffrage Movement. Well spoken and with engaging wit she gave various speeches, participated in numerous lectures and left behind many lively letters.
The youngest of eight children, and sister to Lucrecia Mott, Martha was a strong personality in the women's suffrage movement. Her strong character led her in pursuing a marriage that resulted in getting ousted from her Quaker religion. After moving to the Auburn area, she developed a strong and loyal friendship with Harriet Tubman, in this friendship she solidified her strong support and belief in abolitionist movement. She was one of the five women to plan the first women's right convention held in Seneca Falls, New York, in July 1848, and also held the position of president of the National Woman Suffrage Association.
Overshadowed by an older sibling
Loyal to friends
Well spoken
Strong willed
---
Harriet Tubman 
Bold and daring on so many levels, who else can lead the way that Harriet did?  Do you find yourself taking a stance for what is right and defying all the odds? If so, you've found your suffragist sister in spirit with Harriet.  Harriet Tubman is a survivor that overcame a head injury and escaped a life of slavery.  However, she didn't stop there!  Tubman trail-blazed her way all the way to Canada and back! This conductor on the Underground Railroad was a champion for those in need.  Harriet never stopped defying those odds, she even manage to purchase her own property, something completely unheard of for a black African-American woman. 
Bold and Daring
Survivor
Trail-blazer
Caring for others 
---
Emily Howland 
An active abolitionist an a teacher at heart, Emily Howland played a significant role in the underground railroad and spend a significant part of her life advocating and supporting education for the freed slaves. She received an honorary Litt.D. degree from the University of the State of NY, and became one of the first female directors of a national bank in the United States. Emily lived to the ripe age of 101! 
Highly values education
Integrity
Attention to detail/organized
Healthy habits leading to a long life
---
Elizabeth Cady Stanton
A leader among women, Elizabeth Cady Stanton was the visionary, front runner for the Women's Rights movement and abolition. She was outspoken about several topics that affected women including issues still under scrutiny today. She was brave in her fight to pursue equal rights by organizing the first women's suffrage movements in the United States, instigated by her Declaration of Sentiments. Elizabeth would be your soul sister if you support equal pay for equal work, parental custody rights, family planning and divorce rights.
Outspoken
Brave
Visionary
Leader
---
Susan B. Anthony
Quiet and reserved, but tenacious, Susan B. Anthony was a woman of composure. Anthony was a born leader, with drive and determination. Her Quaker roots inspired her to make up her own mind, to tactfully demand for her freedom of thought, and to remain committed to her goals. She is noted to have stated "I shall never pay a dollar of your unjust penalty." This sister is loyal to her friends and forms lifelong friendships that stand the test of time. 
Composure
Loyal
Reserved 
Quiet yet tenacious
---
Elizabeth Blackwell 
Medical Pioneer, teacher, author, traveler are just a few descriptions of Elizabeth Blackwell. Born in England in 1821, she moved to America in 1832. While an ailing friend had commented that she would have faired better with a female physician Elizabeth started her persistent pursuit of a medical career. After being rejected everywhere she applied she was finally accepted (intended as a joke) to study at Geneva college. After graduating first in her class in 1849 she returned to London to continue her education. She didn't stop there, forging ahead to establish a clinic for women and children run by women in 1851, still not finished she opened a medical college in NYC in 1868. So, if you identify curiosity, tenacity, intelligence, and drive as qualities that distinguish you, you've found your soul sister match in Elizabeth Blackwell.
Teacher
Curious
Driven
Persistent
---
Matilda Joslyn Gage
Was the model of a truly courageous woman. Who else would have the guts to expose sex trafficking and the sexual abuse of women and children by priests over 100 years ago?  Who else wouldn't think of asking for the vote and instead impeach the federal government for not protecting women in their right as citizens from the states who had made it illegal for women to vote. She didn't take the easy route, she followed her heart and her beliefs in protecting enslaved people, supporting native treaty rights, and empowering women. She has been named as "the woman who was AHEAD of the women who were AHEAD of their time."
Unstoppable
Courageous
Determined
Focused
---
Let's hear it for the boys!  Here is a shout out to the men who stood beside our Suffragist Sisters.
Frederick Douglas
This social reformer and abolitionist had a way with words and many regarded him as a gifted public speaker.  After escaping from slavery in Maryland, this former slave broke the chains (figuratively and literally) that bound him, to bring his intellect and eloquence to help reshape a nation.  His support of Elizabeth Cady Stanton and Susan B Anthony was crucial to the success of the Women's Rights Movement. 
A way with words
Supporting
Intellectual
Eloquent 
---
William Henry Seward
William Henry Seward was an optimist who championed for civil rights throughout his entire life.  Married to Frances Seward, their home in Auburn, NY was part of the Underground Railroad and he even helped Harriet Tubman secure property located on South Street in Auburn, NY.  Seward was an exceptional diplomat and negotiator; was Secretary of State for President Lincoln, and survived an assassination attempt.
Diplomatic
Optimistic
Strategic
Imaginative
---
Now that you've found your sister, it's time to march on and rally the forces by taking part in our "Tracing Their Steps" Bingo Game.  Get bingo, and be entered into our drawing for a keepsake print of Harriet Tubman, by local artist Blake Chamberlain.