Cayuga Lake is the largest Finger Lake that lies partially in Cayuga County. The lake is approximately 39 miles long. Cayuga Lake is the second deepest Finger Lake reaching a maximum depth of 435 feet deep. It has an average of 180-feet deep but the very northern end of 10 miles, only reaches 18-feet at the deepest point. The lake averages 1.7 miles in width with the widest area near Aurora at 3.5 miles.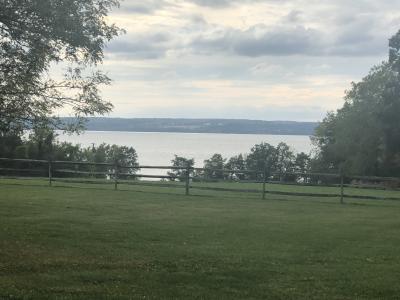 Anglers all over the Northeast know that Cayuga Lake has great warm water and cold-water fishing. National magazine Bassmaster, recently rated Cayuga Lake as the 13th best bass fishing lake in the United States.  Cayuga Lake has hosted 3 previous Bassmaster Elite tournaments and one Bassmaster Open tournament.
This great fishing lake can be easily accessed by Interstate Route 81that runs north and south and by the New York State Thruway that runs east and west.
 If you are looking for a great place to launch, check out the public ramp at the Frontenac Park in Union Springs, New York located on Route 90. The multi lane launch has been recently renovated for your boating pleasure.
   Seasonal Patterns
 Spring
   The ice on the north end of the lake usually melts off around the middle to end of March. Ice off is a signal for the start of the great perch fishing anglers know exist on the North end. Perch fishermen score well with live bait such as fathead minnows and others. Anglers who prefer to cast lures do very well with small hair and soft plastic jigs. As the waters warms during mid to late spring, the perch will start to migrate south toward colder water.
Early spring is also the time to catch spring run rainbows in Cayuga lake tributaries. Try using flies or nymphs along with live bait such as worms or trout eggs.
May 1 starts the beginning of northern pike and pickerel seasons on the Finger Lakes. Cayuga Lake just may be one of... if not the top pickerel lake in New York State. Try using lures such as those used for bass for quantity and quality of fish.
Cayuga Lake may not have the numbers of big northern pike it had years ago. But there are still enough fish to wet your appetite if you enjoy chasing those fresh water wolves. My largest northern, pushing 25-pounds or more came out of the north end of Cayuga Lake.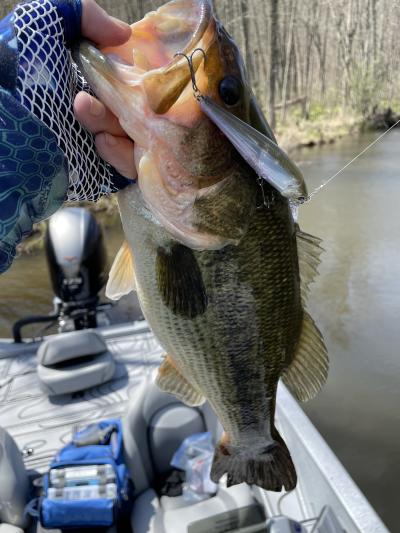 Cayuga Lake towards its more south colder waters have great numbers of lake trout and landlock salmon. You can catch them by casting or trolling lures such as spoons and stickbaits or by vertical jigging. Stick baits such as Lucky Craft Pointer 78 and 100s work well. Trout fishing can be great all year round.
Summer
Summer time is when bass fishermen all over the Northeast flock to Cayuga Lake. It seems like once the bass season opens up on Cayuga Lake on June 15, there's a bass tournament every weekend going on until the colder weather sets in.
Cayuga Lake has good numbers of 2-6-pound largemouths and smallmouths. Gobies have gotten into the lake the past decade. The bass and other fish that feed on them seem to be getting bigger.
Bass can be caught on a number of lures and live bait. Hard baits such as the Lucky Craft Pointers mentioned work early in the season and during early or late day low light hours. Cayuga Lake's north end and other rim or littoral areas have lots of grass. Try working top water lures early, late or during other low light conditions. Soft plastics work great in the grassy areas. Try fishing Texas rigged curly tail worms, soft stick baits, beavers, tubes on the edges and in weed holes. Drifting with live bait such as minnows, worms and craw fish can work at times.
Trout fishing on Cayuga Lake can be good during the summer. Try getting out into deeper water to score either by trolling or vertical fishing. I caught my deepest lake trout, a 14-pounder, at 171-feet on Cayuga.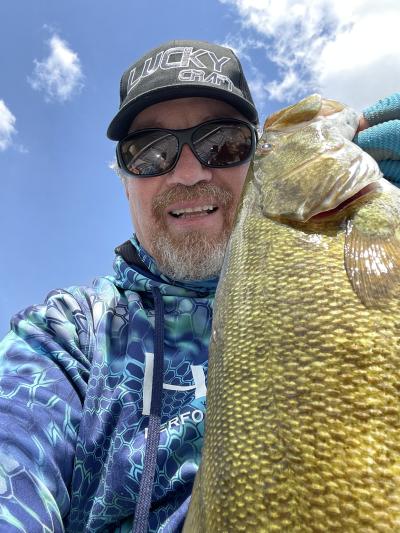 Fall
Fall fishing on Cayuga Lake can be very good for warm or cold-water fish. Lots of the fish that migrated down south to cooler waters in summer, will move back up north in the fall. While the shallows may have been vacant of fish during the summer, various species of fish will move shallow during fall for their pre-winter-feeding binges.
Winter
The Cayuga County portion of Cayuga Lake will usually freeze down to Frontenac Point, just south of Union Springs. The southern 75% of Cayuga Lake usually remains open. Cayuga Lake has only frozen over from end to end only a handful of times in recorded history.
Ice fishermen usually ice fish the northern end from mid-January to mid-March. You can catch good numbers of perch, pickerel, and others through the ice. Try fishing live bait on tip ups or vertical jigging with small spoons to score.
 Cayuga Lake can produce quality fishing during all four seasons of the year. It's the largest Finger Lake in Cayuga County and just may be the best fishery in the area. Fish On!