Whether you like antique & classic cars, motorcycles, live music or fine art, Founder's Day has a variety for all to enjoy. New this year, the City of Auburn is sponsoring a special performance August 10 at 7PM by the Edgar Winter Band on the new field at Falcon Park. Advance sale tickets for $25 are available at the Doubledays box office, and online under summer events at auburnny.gov. Tickets prices increase to $35 after August 1st. General admission field access and stadium seating are available, with free parking in the adjacent lot.
The band openers are the Lightkeepers. With over 60 years of combined musical experience between them, band members Jes Sheldon (Vox), Mike Vincitore (Guitar), P.J. Will (Guitar), Elliot Jarvis (Bass), and Jack Jarvis (Drums) knit a musical blanket of soul, funk, rock, jazzy blues and roots. As the 2016 Syracuse Area Music Award (SAMMY) winners for "Best New Artist," The Lightkeepers are now hitting their full stride in 2019.
Music on the Mall Kick-Off Party
The weekend fun starts with live music on Friday, August 9 for the kick-off party at Music on the Mall from 7 – 10PM in the State Street Band Shell. Entertainment will be provided by the band Ener-G R&B Showband. They are a high energy old school R&B band from Syracuse that specialize in weddings, corporate events, galas, private parties and special events. Band members include James Patterson lead vocals; Jerry Patterson lead & background vocals; Deion Patterson on keys; Travis Reed on keys; Amir Gethers on bass; Brazzie Addison on drums; and Dr. Derek Seward on sax.
Rain location for the show is Moondog's Lounge, also where the Ron Spencer Band will be performing afterward from 10PM – 1AM, inside on the purple stage.
Entertainment
To kick off the main day program, Stephanie DeVito, Executive Director of the Downtown Auburn BID, will sing the National Anthem at noon. During the car show, DJ music will be provided by Jane Stebbins of Charlie's Mobile Entertainment. Stebbins will be playing classic hits to complement the classic cars. For live entertainment, Dan Novak & the Party Nuts will perform from 12 - 1:30PM, and Cruise Control from 2 – 4:30PM. The car show awards ceremony is at 3:30PM. Afterward, Fire & Iron's JD Blues will play in the State Street Band Shell from 5 – 9PM. This street will remain closed and the open container waiver in effect until 9PM.
FLAACA Antique Car Show: History on Wheels
The 47th Annual Finger Lakes Region Antique Automobile Association (FLAACA) Antique Car Show features hundreds of classic & antique cars of all makes and models presented on Genesee Street & Route 34. The show runs from 10AM – 3PM, with registration from 9AM - noon in the parking lot behind Memorial City Hall. Dash plaques are given to pre-registered vehicles; the fee for show cars is $15, or $10 if you register before August 7th. Cars dating back before 1940 are free to participate. This year's featured car is George & Jean Kerstetter's 1953 green Packard Caribbean Convertible.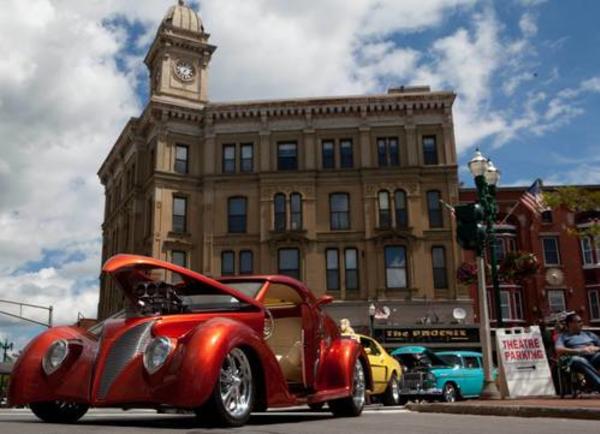 Awards
Closing the car show, there will be awards for the top 20 classics & 20 customs, plus Best of Show, the Mayor's, Cayuga County Sheriff's and Auburn Chief of Police's Choice, Oldest Car trophies and Longest Distance Plaque. The judging starts at noon and the winners will be announced at 3:30PM. The 50/50 drawing will happen at 1PM, and all proceeds will benefit local community programs. For more info on the car show please call 315.253-4357.
auBURN Bike Fest & Ride 2019
The auBURN Bike Fest & Ride registration starts at 9:30AM under than band shell on State Street. Moondog's Lounge is serving a breakfast sandwich special before the ride, which will run from 11AM – 1PM, with bikes parking on State Street after. Fire & Iron Motor Cycle Club #222 are raising funds for the Burn Foundation of CNY with the ride registration fees. For more info please call 315.406-1408, or visit their Facebook event: https://www.facebook.com/events/187067718874185/.
Unity House's 6th Annual Art Flaire
If fine arts and crafts are more of interest, stroll through Exchange Street Plaza, the perfect location for the Art Flaire fundraising event organized by Unity House, happening from 10AM - 4PM. Twenty regional artisans, crafters & vendors will be showing & selling their works, plus novelty food items, a silent auction & more. For more info on Art Flaire please call 315.253-6227 ext. 313 or visit: www.unityhouse.com/artflaire.html.
Evening Entertainment
After the street festival wraps up at 6PM on Genesee Street; there will be live music in the State Street band shell by JD Blues Band, a guitar-harmonica duo based out of Fairport. They play a variety of traditional blues, rock & contemporary arrangements. The lineup includes Jim Schreiner on harmonica, lead & backing vocals and auxiliary percussion, and Dave Roberts on guitar, lead & backing vocals and primary percussion. After that, Funky Blu Roots will be playing inside Moondog's from 9PM – 12AM.
With the Great Race on the following day, Sunday August 12th, Auburn will be at its very best with lots of weekend activity for visitors and residents alike. For more information please call 315.252-7874 or visit https://www.facebook.com/Founders-Day-Festival-in-Auburn-NY-389719663728/.