Auburn and Cayuga County has been home to many prominent figures in American history and 2013 will be a year of celebrating one such "celebrity" – Harriet Tubman.
Tradition has it that Harriet's ancestors were from Ghana. My family and I feel like we have a particular connection to her as we hosted an exchange from Ghana. Demaris was aware of Harriet Tubman and her American connection and felt privileged to live in Tubman's "home town".
Harriet Tubman was born into slavery in Maryland around 1822 escaping from bondage in 1849. Once free, she became an operator of the Underground Railroad — a secret network of people, places and routes that provided shelter and assistance to escaping slaves. She boldly returned South to rescue family and friends, guiding them safely to freedom. By 1860, Tubman had earned the nickname "Moses" for selflessly liberating the enslaved.
Cayuga County, along with many other areas of New York State, was a linking route on the Underground Railroad sheltering, transporting and helping slaves to escape into free Canada. With a high population of Quakers and many of the early "feminist" of the Women's Suffrage Movement living in the area, it is no surprise that Harriet Tubman ultimately settled on South Street in Auburn.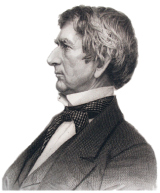 Patronage from William H. Seward, famous for his deep connection to Abraham Lincoln, and other leading community supporters made sure that she was equipped to offer assistance and sustenance to others. Tubman developed a complex of buildings including an "old folk's home", hospital and other critical needs facilities. These can be toured and experienced today.
Since March 10 marks the centennial of Harriet Tubman's death, many communities around the world will honor her by hosting special events, pilgrimages, lectures and programs to celebrate her legacy during 2013.
The first commemorative event in Auburn is on Friday, March 8, featuring a community gathering at 5:30 pm at the Booker T. Washington Community Center, 23 Chapman Avenue.       
On Saturday morning at 8:30 am, there will be a brief service and presentation of a burial wreath at the Thompson Memorial AME Zion Church, 47 Parker Street.  Guests will then go to the Fort Hill Cemetery, easily accessible from the church, to place a wreath on her gravesite and pay respect.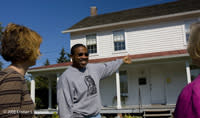 On Sunday, March 10, the church will recognize the actual 100th Anniversary of Harriet Tubman's passing in the morning and afternoon. At the regular 11 A.M. service, special invitee, Mrs. Constance Evelyn, Superintendent of the Auburn Enlarged School District, will be the guest speaker.  A 3 P.M., in partnership with aaduna, Inc., Thompson Memorial AME Zion will present the premier performance of poetic works by Cyd Charisse Fulton that celebrates the history, legacy, impact and effect of Tubman on subsequent generations since her death.  The audience will be able to engage Ms. Fulton in a Q&A session after the reading and converse with her at a reception. The reception will immediately follow the reading.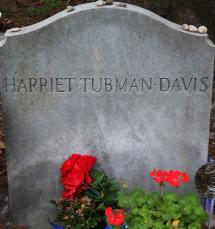 On May 18, the A.M.E. Zion Church hosts the Annual Harriet Tubman Pilgrimage. The day begins at 9 am with a wreath laying ceremony at Tubman's gravesite in Fort Hill Cemetery followed by a memorial service at the home on South Street with a guest speaker and concert by the A.M.E.Z. Chorale.
During the afternoon pageant, Miss Harriet Tubman will be crowned. The ceremony recognizes the church which raised the most funds to carry on the upkeep of the property through the Harriet Tubman Foundation. The property was deeded to the church in 1940. The entire day is free and open to the public.
On August 3, Founders Day 2013 will highlight Harriet Tubman and her impact on Auburn, New York and the USA; there will be many events throughout the City of Auburn
---
Susan Marteney teaches Community Education classes at CCC and is a co-owner of Tuxill House, a European-style guest house in Auburn, an avid gardener and a community activist.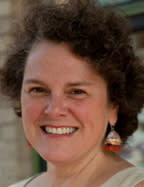 ---