Hoopes Park – A Garden of Earthly Delights
Nestled into a residential neighborhood and bordering East Genesee Street across from Herman Ave. Elementary School, Hoopes Park is a perfect spot to stop and enjoy nature in an urban setting.
On the afternoon of the Auburn Beautification Commission Annual Summer Garden Tour, I drove across town to Hoopes Park to pick up the directional map and then set off exploring the eight private gardens.
But I knew I needed to come back to the starting point to enjoy the plantings and take a quick walk.
So back I went the next day with my daughter and we found the park to be very pleasant. We were immediately greeted by an almost blind elderly dog out for her morning constitution and glimpsed a walking-talking tangle of dogs and people with travel coffee mugs.
During the summer months, Hoopes Park is a real slice of Americana with kids running around doing somersaults while an ice cream truck's chimes beckon and young and old sit in folding chairs talking and waiting for the entertainment to start.
A ½ mile paved path which circles the Hunter's Pond welcomes dog walkers, baby strollers and nature lovers in any season. Mature specimen trees including majestic oaks, beech, maple, mountain ash and flowering crabapples give shade for the nicely spaced benches. A secluded cedar grove is a perfect place to ponder the day. Take time to rest, watch the clouds, read or admire the beds of annuals and perennials as you circle the pond..
Maintained by the City of Auburn with help from community volunteers, there are many varieties of flowers to admire including canna lilies, begonia, sunflowers, Rose of Sharon, astilbe, sedum of all types, Echinacea and phlox along with a butterfly garden and gurgling fountain. Memorial markers dot the park designating trees and benches donated in memory of a loved one. The "Fountain of Life" instructs passers-by through an inscribed verse and offers a cool drink. There are handicapped accessible restrooms in the Club House. City employees raise seedlings in a small greenhouse.
A heron has taken up residence on the small island while Mallard ducks and their babies float by waiting for a bread crust to be tossed to them. A fountain, lit at night, keeps the air cool and breezy. When the winter cold hits and the pond freezes, skaters enjoy strapping on their skates for a spin around the ice.
The striking green and white gazebo and the newly renovated Club House are perfect for wedding ceremonies. It is common for two or three bridal parties to be there at the same time as Hoopes Park is "the" place for beautiful wedding and Prom photos during the spring, summer and fall. 
Community events such as the starting point for the Auburn Beatification Commission Annual Garden Tour, Hospice "Light Up a Life" Tree Lighting Ceremony, The City Summer Concert series and "drive-in" movies hosted by the Auburn Cinefile Society all take place in this natural setting.
Winter, spring, summer or fall, there is always something to capture the eye at Hoopes Park.
---
Susan Marteney teaches Community Education classes at CCC and is a co-owner of Tuxill House, a European-style guest house in Auburn, an avid gardener and a community activist.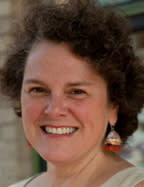 ---