Hoppy National Beer Day!  The local craft beer movement is becoming a more prominent force in the Finger Lakes Region and Cayuga County has been fortunate enough to add three new breweries in the past couple of years.  With that said, it seemed fitting to do a featured blog on one of Cayuga County's local breweries.  Our office was very pleased when the Lunkenheimer Craft Brewing Company agreed to a Q&A session.  Meet the husband & wife team Derric Slocum and Kristen Lunkenheimer-Slocum at Lunkenheimer.  They are an official stop along the Finger Lakes Beer Trail and their nanobrewey (classified as such, because it produces less than 2,000 barrels a year) is located in Weedsport at 8920 North Seneca Street.  A visit to their brewery offers up an assortment of palatable beers that lend themselves well to a novice beer drinker or even a more seasoned connoisseur.  With exciting brews such as Perplexed Ale there is no questioning their knowledge of the craft.  So raise your glass, read on and of course stop by to see what's on tap!
Tell us a bit about your brewery.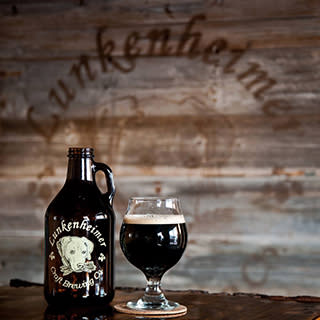 Lunkenheimer Craft Brewing Co. is small batch, hand-crafted brewing company located in the historic Erie Canal Village of Weedsport, New York. We are Weedsport's first brewery since prohibition and operate as a farm brewery sourcing local ingredients as much as possible. We have the flexibility to experiment and offer an ever-changing variety of creative and unusual ales. We are the place where your pour is incredibly fresh, the glass is always half full and everyone celebrates by wetting their whistle.
How long have you been brewing for?
(Derric) – I/we have been brewing "professionally" for a year and a half which happens to be the same length of time our brewery has been open.
How did you get into brewing? Did you homebrew?
(Derric) – I started home brewing sometime around 2007. I had a group of co-workers that introduced me to craft beer and while on a business trip they talked about making their own. I knew it could be done but never really put any thought into it because I never had a beer that I thought would be interesting to brew. The combination of new found flavors, and a few people that had already made their own beer inspired me to try it myself.
(Kristen) - I learned to homebrew by telling Derric to teach me. He had us do an extract kit and I enjoyed that, but it was not enough, I wanted to learn the all-grain process. I attribute this to having a manufacturing/process passion.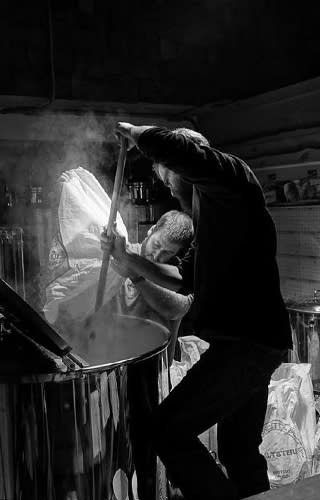 What do you enjoy most about brewing?
(Derric) – I think the thing that I enjoy the most is sharing beer with others and seeing their reaction. It's a great feeling when we put out a new beer and people seem amazed at how the flavors come together. It's also really cool to see people try a craft beer they really enjoy for the first time!
(Kristen) - The process and the challenge of never being satisfied and always striving for better. As well as, the collaboration in the industry and the lack of the "corporate world" feel.
Is there anything you don't enjoy about it?
(Derric) – Like anything in life, there are moments that are frustrating, but we make beer and get to share it with great people, what's not to enjoy about that?
(Kristen) - Not really, but if I had to identify something it would probably be with some of the paperwork that goes on behind the scenes.
What steps do you take when creating a new ale? How do you decide what to make?
Some recipes will come right to mind, but many take months to develop.
What do you think attracts people to your beers?
(Derric) – I think the approachability of our beers is what attracts people. There are a lot of breweries really pushing the boundaries of beer, which is a great thing, and we like to push from time to time as well. But we really focus on making the majority of our beers good clean beers that most people can enjoy.
(Kristen) - They are very drinkable, nothing is too extreme and we keep the beers changing.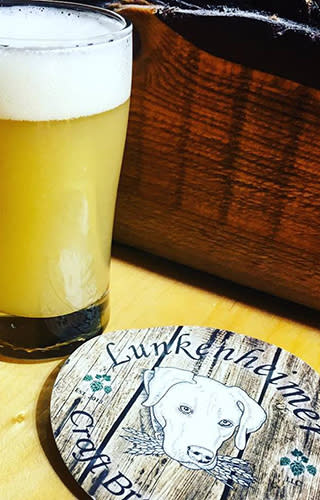 Which of your beers is your favorite? Have you had any outright disappointments or disasters?
(Derric) – That's a tough question, and by the time everyone reads this it will have changed at least a few times. This week I have been partial to the Hoppy Little Kolsch (Equinox). It's a light easy drinking beer which a Kolsch should be, but we hopped it up with Equinox hops which are a new type of hop for our brewery and I am enjoying the flavor profile. I have a dark beer or two on that I am excited about, and we just brewed a "Double Exit 40" that at this point in the process looks to be coming out awesome!
Of course there are disappointments, you chalk them up to a learning experience and dump them down the drain. The big thing with a disappointment is doing everything you can to understand what went wrong so you don't repeat the mistake in the future.
(Kristen) - My favorite beer changes every day, it just depends on what mood I am in. Today, I would probably sip on the Hoppy Little Kolsch, series: Equinox. It is a new series that we will continue to brew where wefocus on one hop in each series. As for disappointments or disasters, absolutely. There are those that have already experienced some and those that will if they haven't—it's how the industry works.
What are your plans for the future?
Even the best thought out plans require revisions. We originally started with a 1bbl brew house and less than a year of being open found ourselves implementing a new 5bbl brew house—this expansion was
unplanned. Ultimately our goal has always been to open a 20 – 30bbl brew house, so we will continue to work towards that for the long term. Meanwhile, for the short-term we will focus on being open more than 13 hours week.
What advice would you give to home brewers?
(Derric) – There is a saying out there, "brewers make wort, yeast make beer." Invest in the cold (fermentation) side of things, both financially but more importantly knowledge. You can make an "ok" recipe a good beer with good fermentation, conversely you could brew the best beer in the world and have it turn out as the worst if you have poor fermentation.
(Kristen) - The fun part about brewing is that you can always learn more. Simply enjoy the process and focus on crafting standard styles before getting crazy with additions of unusual ingredients and flavors. ~
---
Looking to visit Lunkenheimer? 
Hours: Thursday & Friday 6-9PM, Saturday 12-9PM.
Phone: 315-834-7027
Address: 8920 North Seneca Street, Weedsport, NY 13166
Website:  lunkenheimercraftbrewing.com or on Facebook
A special thank you to Lunkenheimer for permission to use their photos and special acknowlegement to Instagramer @starzee947