I am on the road again in pursuit of the best chocolate soft ice cream, and butter pecan of the hard variety.  I found two classic ice cream drive-ins at Pete's Treats and Classic Cones in the heart of Cayuga County.
Pete's Treats is a treat!  It is located in the Village of Union Springs, and has recently had a face lift.  It is clean and neat and serves all your drive-in classics!  I had a cheese burger – it tasted like it was flame grilled.....delicious!   Also had a coke float with chocolate ice cream.  Had to quench my thirst, but also had to sample their soft chocolate.  It did not disappoint.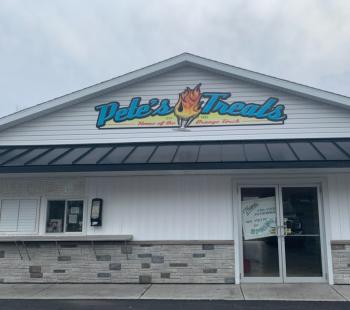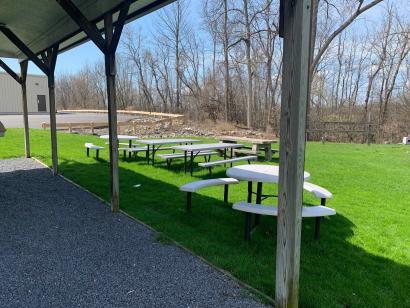 Pete

's has a walk-up window, or a dining room with ample seating.  The dining room even has an old-fashioned pinball machine.  If you prefer to dine outside, there is a pavilion out back with picnic tables.  Pete's is conveniently located on Route 90 right next to Lakeside Trading.  They have some of the cheapest gas in the county, so wait to fill up there, when you go for a treat at Pete's!
 
Pete's Treats, 295 Cayuga Street, Union Springs, NY  13160  Open til 9 pm daily.  315-889-7636
Classic Cones was a place I found totally by accident.  I have lived in the area most of my life and never knew this place was there.  It's a best kept secret apparently.  Classic Cones is located at the corner of State Street Road (Route 38) and Turnpike Road on the northern end of the City of Auburn in the Town of Throop.  You can't miss it with it's bright red roof!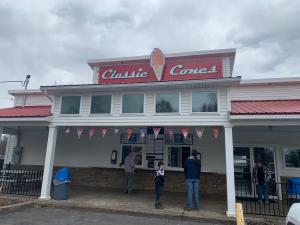 Classic Cones serves Perry's hard ice cream, like many of the local drive-ins, including Pete's Treats. Perry's is one of the best ice creams around, and it is made right here in Upstate New York.   The difference at Classic Cones is they serve more than 20 flavors, including my butter pecan!!  They also serve lactose free and dairy free alternatives for those with dietary restrictions, but still want to treat themselves!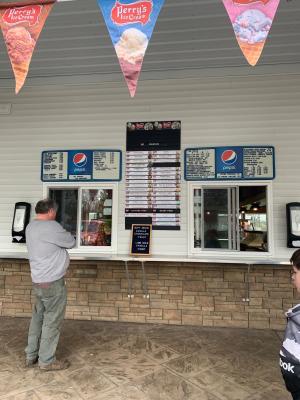 Classic Cones and Pete's Treats are very similar in that they both have walk-up windows, and dining rooms that look surprisingly similar with the knotty pine, clean, crisp look.  The menus are also similar.
Classic Cones has a covered outdoor eating area as well.  Classic Cones, 7342 State Street Road, Auburn, NY  13021   315-370-5042.  Open daily til 10 pm.