#ParksPosterChallenge
Your pictures are awesome, we want to see more! It has been a beautiful summer and is shaping up to be a stunning fall! Venture out to all three state parks with friends, family or a solo adventure. Part of the beauty and allure of nature is that it can be what you need it to be. Schedule a few days of family bonding by packing a picnic and enjoy the day use areas, grab some lunch or snacks to go with your pals and explore a new place or lace up your hiking boots and hit the trails to get fresh air and perspective. 
                  We worked with local illustrator David Owens of Owen Illustrations to create these beautiful, fun and inspiring posters of some of our most striking assets. When we first launched images of the posters on social media, we know people would love them, we didn't anticipate just how much! Because of the interest in these posters and generating tourism(..it is after all what we do!) we decided to run a contest to encourage summer and fall visitation to the parks. We call it a win win; win 1) a day spent in the great outdoors, win 2) a collection of unique, wonderfully illustrated posters!  What could be better? Find out how to enter below.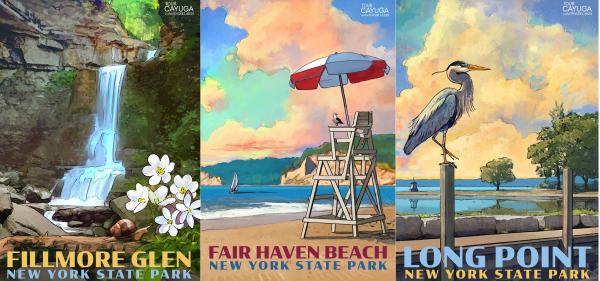 How to enter: Visit Fillmore Glen, Fair Haven Beach and Long Point State Park by October 10, 2022, take a photo and tag @CayugaTourism and use #tourcayuga #parkspostercollectionwhen posting on Instagram. Must visit all 3 & use corresponding tags. The Tourism Office will select 20 winners at random from all entries to receive the collection of illustrated posters. Winners will be selected on Friday October 15, 2022.