For casual and serious birders alike, The Finger Lakes are a treasure trove for birding, especially in the spring.  From Sterling Nature Center on Lake Ontario to Howland Island Wildlife Management Area in Port Byron to Bear Swamp State Forest in Moravia, Cayuga County has plenty to keep bird watching enthusiasts interested.  You may see Blue Jays, Great Blue Heron or even a Tundra Swan. Before you head out on any bird watching expedition, be sure to pick up the 'For the Birds' guide to bird watching by stopping into the NYS Equal Rights Heritage Center at 25 South Street in Auburn, NY or by calling 800-499-9615.  The guide is free and is a great tool to help you identify our feathered friends!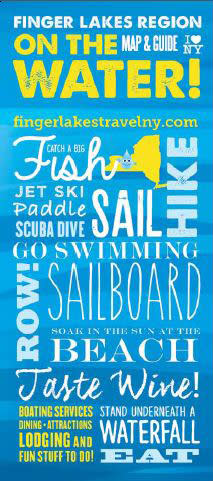 The Finger Lakes Region has some of the most varied and best boating waters in the entire country and when spring weather is here, boaters shift into high gear! Rivers, marshes, creeks and of course our famous lakes offer boating opportunities for almost any type of water craft from yachts to kayaks.  If you do not have your own boat, you may want to arrange a chartered boat tour or contact one of the many marinas to inquire about boat rentals.  If you are looking to canoe, kayak or paddleboard, Owasco Paddles in Emerson Park on Owasco Lake has everything you need for a few hours or full day of fun on the water.   The Finger Lakes region's "On the Water!" map and guide is a particularly helpful guide to boating and other on the water activities in the Finger Lakes.  Call 800-499-9615 for a copy. 
If you are a boater, there is a good chance that you are an angler as well and you will find you are in one of the best places to catch fish in New York State.  In particular, the Finger Lakes produce some of the best bass fishing, both largemouth and smallmouth in the State.  Fishing charters are available on every lake and if you are not from the area, you can rely on some very knowledgeable and experienced charter boat captains that will take you to where the fish are.
When Spring is in the air it's time to get out an explore some of the great outdoor activities that Cayuga County and the Finger Lakes offer.  So, don't wait, get out and enjoy these early spring days when everything is once again fresh and new.