By: Danielle Benjamin
As climate change continues to worsen, environmental conservation efforts are more critical than ever. Luckily, resources and educational materials are becoming more readily available. Innovative programs from entities across Cayuga County are making a real difference and improving the region's environmental outlook. In a variety of fields, folks are implementing sustainable programs and practicing conservation efforts to preserve the natural environment and reduce waste. Now they are sharing their passion and dedication through programs that other people and businesses can replicate.
Saving the Lives of Salamanders in Owasco Flats
If you are driving along County Route 38 in Owasco Flats on the first warm and rainy nights of the spring, be vigilant. That's when you'll find yellow-spotted salamanders crossing the road and volunteers helping them do so safely.
Saving salamanders, while both exciting and rewarding, is also a dangerous task that volunteers partake in each spring.
Leading the charge in Moravia is Jane Manning, both the owner of Drifters on Owasco and a board member of the Owasco Flats Nature Reserve. In both aspects of her career, she finds ways to reduce waste and support the local ecosystem. Simple tasks such as eliminating the wrappings around the silverware at the restaurant go a long way when done on a commercial scale. Being situated right along the shores of Owasco Lake, Jane recognizes the importance of maintaining and supporting the surrounding environment.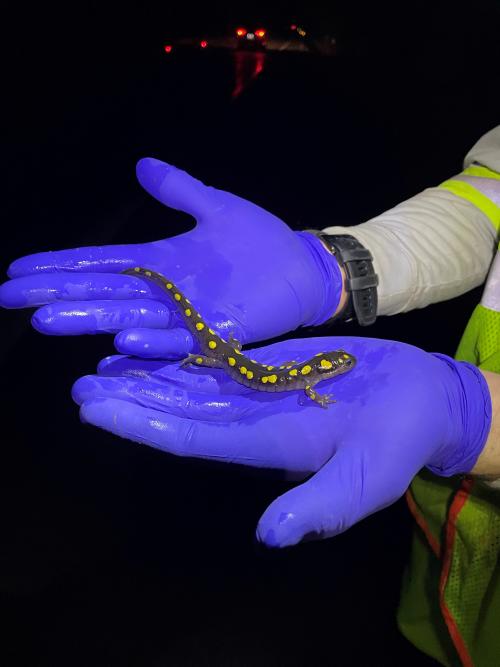 As the winter draws to a close each year, the NYS Department of Environmental Conservation issues notices to let people know to be on the lookout for salamanders crossing. Volunteers monitor the weather in regions where the salamanders are most active, so they are ready to activate when the time is right.
When the conditions indicate that the salamanders are ready to move in Owasco Flats, Jane publishes a call for volunteers on the reserve's Facebook page. Anyone is welcome to volunteer, but participants are encouraged to wear high visibility gear and bring headlamps or flashlights. If not, other folks who regularly volunteer may have some gear to borrow, but safety is a priority. They must also be comfortable working along a 55 MPH road in the dark.
Once a time and date is set, volunteers meet along the side of County Route 38 and start searching for salamanders along a half-mile stretch of the road that runs through the nature reserve. With the warmer temperatures, the salamanders awaken from their winter hibernation and come out from their underground homes to prepare for breeding season. Unfortunately, in several parts of New York where these salamanders live, they are required to cross busy roads to get to their "summer homes" in the wetlands.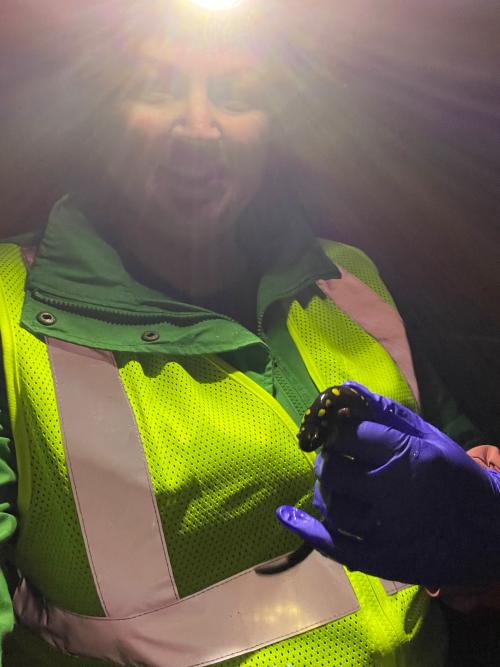 That's where the volunteers come in to help. By setting up flares and wearing high visibility gear, the first goal is to get noticed. Alerting drivers to slow down minimizes the number of amphibian casualties. When a salamander is seen on the road (and it is safe to cross), a volunteer will gently pick them up, cross the street, and place them down off the road, along the wetland side of the reserve.
On the most active night of salamander crossing in Spring 2022, a group of 8 volunteers, led by Jane and her husband, saved nearly 300 salamanders along with dozens of spring peepers and toads.
Wells College Sets a Goal of Zero Emissions
Another entity that is doing their part to conserve the environment in Cayuga County is Wells College. Led by Sustainability Coordinator Marian Brown, the college was an early signatory of climate commitment, going so far as to set a goal of zero emissions by 2050. The good news?  Energy and water conservation efforts have led to a 60% reduction in emissions, and the college is ahead of schedule. But not without an immense amount of effort from several parties across campus -- all while the ongoing pandemic has wreaked havoc on many of their plans.
One of the main programs at Wells is large scale composting of the food waste from their dining halls. After a successful waste audit, careful consideration and planning has gone into how food is served and disposed of across campus. Efforts include sourcing from local growers, eliminating food trays, using compostable packaging, and implementing a comprehensive recycling program. All of the compostable waste from the dining hall is transported to the OCRRA facility in Syracuse to be properly composted.
OCRRA, Onondaga County Resource Recovery Agency, is responsible for overseeing the waste disposal, recycling, and compost programs in Onondaga County. The organization works with numerous agencies to assist with waste and recycling needs. They also provide educational resources to help individuals and businesses alike create a healthier and cleaner community. They can be contacted at 315-453-2866.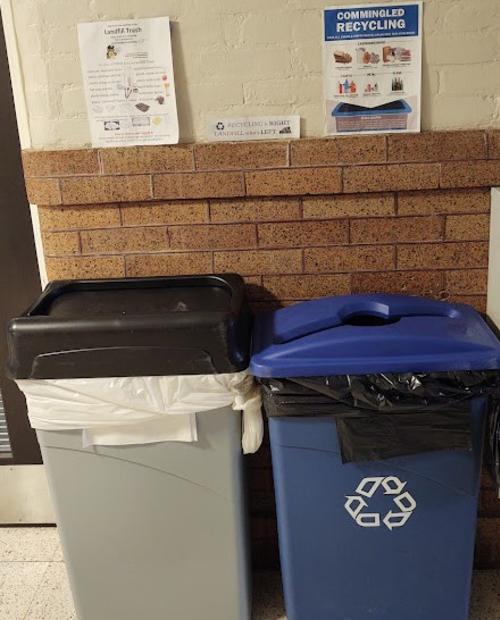 The realms in which Wells College is excelling environmentally are numerous:
Using a comprehensive waste management system including recycling and composting.

Purchasing 100% wind energy.

Implementing energy and water conservation efforts.

Selling sustainably-made products in campus stores.

Using energy-efficient computers across campus.

Revitalizing campus gardens.

Distributing thousands of herb, vegetable, and flower seeds.

Implementation of the "Living-Learning Laboratory", modeling sustainable practices and collaborating with entities off-campus
Most notably, many of the practices at Wells can be incorporated into other business models and personal lifestyles. Marian boasts that "If we can do it at Wells, we can do it anywhere."
It's also important to note that sustainable practices are not always budget-friendly. Doing the proper research and implementing the most effective programs takes a great deal of time and resources. Marian notes that it is important for entities to consider the costs associated with adopting certain sustainable programing. You need to make sure that you are doing less harm than good.
One environmental cause that Marian is personally passionate about is the use of electric vehicles. Admittedly, she doesn't understand why more businesses don't have electric vehicle charging stations. With support from the state to install them, it just makes sense. "Why more [businesses] aren't doing that is beyond me," Marian adds. One place of note that does have EV charging stations? The Inns of Aurora. As a business that caters to travelers, they are able to attract more guests by allowing them to recharge their vehicles during their overnight stays.
Lastly, Wells isn't just practicing sustainable efforts. They are also actively teaching sustainability as part of the curriculum. In fact, one of the aspects that drew Marian to the college in 2014 was the academic component of their sustainability efforts. Now Wells College Center for Sustainability and the Environment hosts a yearly lecture series focused on sustainability. The upcoming lectures and access to the virtual presentations can be found on the Center's website.
Reuse Refuge is Eliminating Packaging Waste
Two young moms in Auburn are doing their part to make the world a better place for their children. At Reuse Refuge, Lucy Janssen and Emily Benjamin have built a shop highlighting sustainably-made products and eliminating waste. The main component of their business includes selling refillable products for the household and personal care, alongside other eco-friendly home products.
By allowing customers to bring in their own containers, every sale eliminates another plastic bottle that could end up in a landfill if not recycled properly. The products, which include items such as hand soap, laundry detergent, shampoo, dish detergent, and even blowing bubbles, are sold by weight, using the difference from the empty container to the filled one. If a customer doesn't have a container, they can purchase one from the store or grab one that was donated by another customer.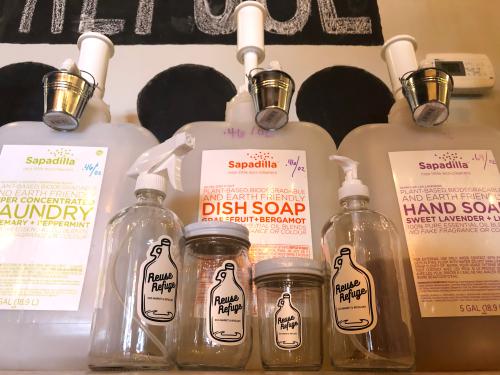 Lucy explained that she has always cared about the environment. "But being a mom, it really hits home for you that [your children's] future is in the balance of everything."
The ladies are not just concerned with their own waste; they collect certain waste from the community as well. Part of those efforts include gathering compostable food and packaging to be disposed of in Lucy's backyard. The second part is their participation in a TerraCycle program, wherein they collect specific items to be recycled properly. Recent items they have collected include plastic sandwich bags, candy wrappers, and chip bags. The very specific nature of the items allows a large collection of them to be best recycled and repurposed; eliminating them from ending up in a landfill.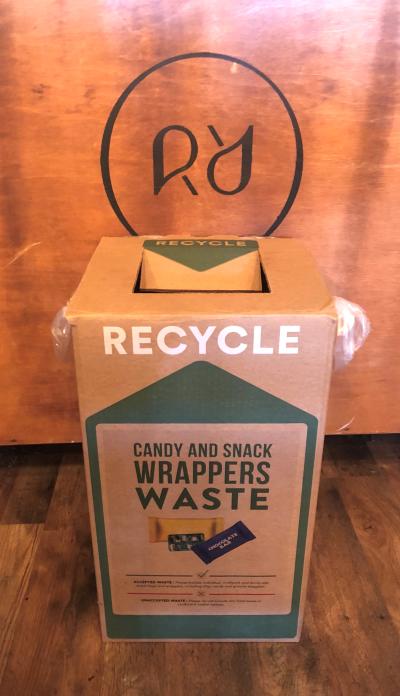 Future goals of Reuse Refuge include hosting a truck to bring to various events in the community to sell their refillable products and raise awareness of their efforts. Eventually they'd like to expand their business to include bulk sales of refillable dried foods, similar in style to what other local markets are doing in Syracuse and Ithaca.
Emily and Lucy currently share their shop space with other sustainably-focused and locally-owned businesses. Amanda "Mandy Girl" Carnicelli is a crochet artist who specializes in selling vintage, second-hand clothing. Hearts Fire Botanica, run by Ashley Myers, focuses on selling loose herbs in bulk along with herbal self care products.
Encouraging more community members to be more environmentally conscious
From saving salamanders one-by-one in the middle of the night to composting all of the food waste across a college campus, sustainable practices are making a difference across Cayuga County. Every person involved in these projects is passionate about the environment and protecting it for the future generations. And while they are not alone, there is still a lot that can be done throughout the community. They need help to make their actions more standard practices for families and businesses.
Conservation. Preservation. Sustainability. These aren't just buzzwords. They are concepts whose activities need to be incorporated into more programs and lifestyles. If you are looking for a way to get involved, consider reaching out to any of the businesses mentioned. Or find local Facebook groups to get involved in. The New York State Department of Environmental Conservation is also a fantastic resource. Every little bit truly does make an impact.