I have always loved live theatre, what's not to love? Musicals, dramas, opera, I love it all. Theatre can be whatever you want it to be – escapism, a fun evening out. Once my children and grandchildren were old enough to attend, I brought them with me. There is nothing better than seeing the look of awe on their faces during a performance. I remember taking my granddaughter to see Cinderella, when she overheard me ask her mother, "I wonder how they were able to change Cinderella from her rags to her ballgown so fast", she said, "Grandma its' magic". I agree, theatre is magical!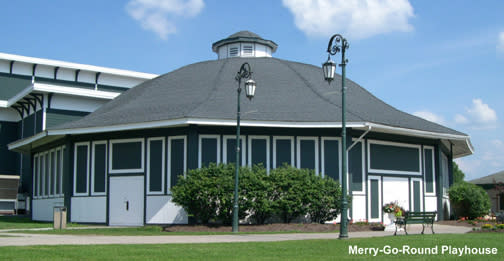 We are so lucky to have a nationally recognized theatre company right here in Cayuga County, The REV Theater Company! The REV (formerly known as FLMTF/MGR Playhouse) is a professional regional theatre company, that features Broadway caliber musical productions at the Merry-Go Round Playhouse located in Emerson Park on Owasco Lake in Auburn NY.

The 2022 season opened with Catch Me if You Can- A high-flying, heartfelt musical comedy about chasing your dreams and not getting caught. Syracuse.com called the show "eye and ear candy, an irresistible scam!" The Ithaca Times said: "Adam Koch's set, wildly lit by Jose Santiago…stuns –– almost a character in itself."  It's too late to catch this show but there are still plenty of other shows to catch!
This season The REV is offering a great season of shows with something for all ages.
July 13-August 2-"The Hunchback of Notre Dame,"
Prepare to be mesmerized by the power and spectacle of this unforgettable musical.
Be transported to 15th century Paris, where deformed bellringer Quasimodo yearns to
explore life beyond the confines of Notre Dame.
August 4-5- 'Til Death Do Us Part: Late Nite Catechism 3
The latest class to be unveiled in this sinfully funny series.
Classroom participation is a must, so bring along your sweetie and your sense of humor for a session with the country's feistiest couples' counselor!
August 17-September 6- State Fair
Set against the colorful backdrop of an American heartland tradition, travel with the Frake family as they leave behind the routine of the farm for three days of adventure at the annual Iowa State Fair. State Fair is a nostalgic kind of warm-hearted family entertainment only Rodgers & Hammerstein could deliver!
September 21-October 11-The 64th season at the playhouse will conclude with Ain't Misbehavin.
A sizzling celebration of Fats Waller's music.
This delightful revue evokes the humor and infectious energy of this American original to
provide an evening of humor, romance and thrilling song and dance.
Do you have a special occasion coming up and no idea how to celebrate? How about the timeless classic of Dinner and Theatre! Cayuga County has many dining options. Follow a great meal with a great musical theatre performance. Visit one of The REV's official restaurant partners to receive an exclusive special or discount!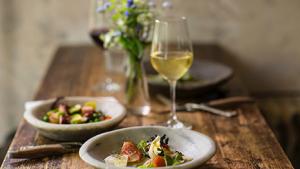 Lasca's
Moro's Table
Parkers Grille and Tap House                      
Prison City Pub & Brewery
Mesa Grande
Next Chapter Brew House
Another great option for dinner is the Oak & Vine Restaurant at the Historic Springside Inn. Oak & Vine is located only a few miles from the theatre.
Matinees and evening show times are available. For more information or to purchase tickets click here.