Of the 16 places on the BINGO card, you may or may not have heard of them and know why they are significant. Here's a little background on each of them. Please note that at this time some locations may be closed to visitors due to COVID-19. We are encouraging you to take a picture of the building and make a pledge to yourself that you'll return to learn about these courageous women.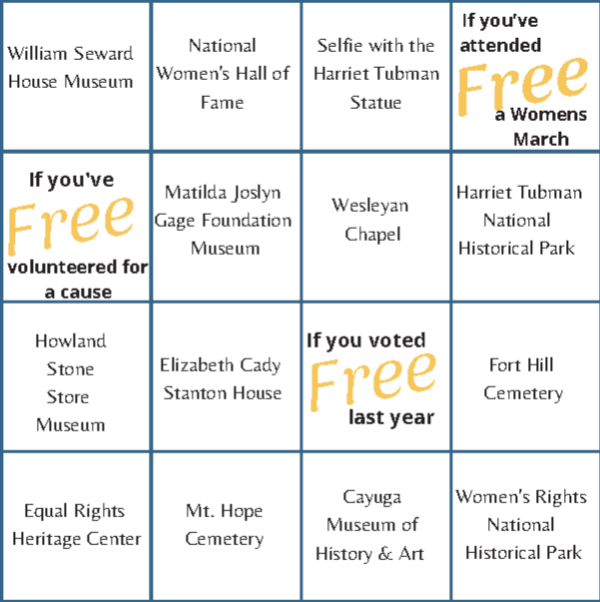 A random winner will be selected to win a Harriet Tubman painting by local artist, Blake Chamberlain. To be eligible you must have a BINGO (4 across any direction) with the photos of the locations. Deadline to submit is Monday July 20, 2020.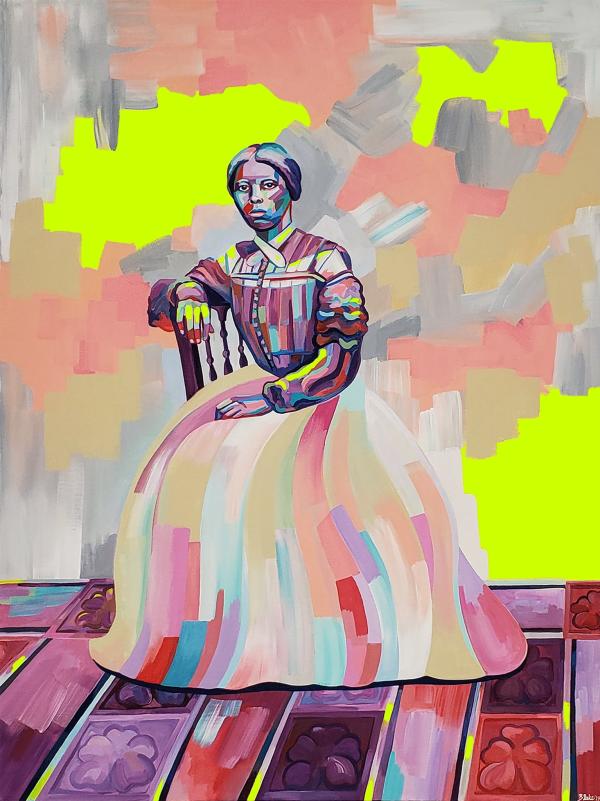 Seward House Museum – 33 South Street, Auburn NY 13021
William H. Seward, former New York State Senator, Governor of NY, Secretary of State, and friend of Harriet Tubman. Harriet Tubman's home here in Auburn was originally land owned by the Seward Family. The house museum now displays one of the most original collections of any historic home in America. 
National Women's Hall of Fame - 76 Fall Street, Seneca Falls NY 13148
Seneca Falls is the birthplace of the American Women's Rights Movement, the site of the first Women's Rights Convention in 1848 held by Elizabeth Cady Stanton, Lucretia Mott and 300 other women and men. The Hall of Fame was created in 1969 and continues to recognize influential women in arts, athletics, business, education, government, humanities, philanthropy, and science.
Harriet Tubman Statue – 25 South Street, Auburn NY 13021
Visit this awe-inspiring statue outside of the Equal Rights Heritage Center in downtown Auburn.
Matilda Joslyn Gage Foundation Museum – 210 E Genesee Street, Fayetteville NY 13066
Matilda Joslyn Gage was nationally known for her role in abolition and women's rights. Born in 1826 she was a women's suffragist, a Native American rights activist, and prolific author. Education, discussion, and dialogue about human rights issues is the foundation of the center.
Wesleyan Chapel – 136 Fall Street, Seneca Falls NY 13148
Built in 1843 it was the site of the first Women's Rights Convention in 1848. The church was a haven for antislavery activity, political rallies, and free speech events.
Harriet Tubman National Historical Park – 180 South Street, Auburn NY 13021
The park includes the Thompson Memorial African Methodist Episcopal Zion Church (that Harriet raised the funds to build), the Harriet Tubman visitor Center, the Tubman Home for the Aged and her residence, all located on about 32 acres on South Street.
Howland Stone Store Museum –  2956 NY- 34B Aurora NY 13026
Emily Howland worked tirelessly for African American's and women's rights throughout her 102 years of life. She and her home in Sherwood became nationally known in the women's suffrage movement and educator of women and African Americans. The Museum is listed on the National Register of Historic Places.
Elizabeth Cady Stanton House – 32 Washington Street Seneca Falls NY 13148
Referred to by Elizabeth as "Grassmere" and the "Center of the Rebellion". Elizabeth Cady Stanton and her family lived in the home from 1847 to 1862.
Fort Hill Cemetery – 19 Fort Street, Auburn NY 13021
Many notable figures call Fort Hill Cemetery their final resting place including; Lydia Ann Moulton Jenkins- 1t Ordained Female Minister, Elizabeth Bradley Metcalf- social activist in mental health and child welfare, Eliza Wright Osborne- philanthropist and leader in the women's movement, Florence Dangerfield Potter – Lawyer 2nd woman admitted to the NYC Bar, William H. Seward and Harriet Tubman.
Equal Rights Heritage Center – 25 South Street Auburn NY 13021
See where New York State's progressive history supporting equality comes to life. Experience history from the 1800s to modern day covering the stand for justice and the role key contributors played.
Mt. Hope Cemetery – 1133 Mt. Hope Ave, Rochester NY 14620
Rochester's pioneers and nationally known figures rest here. See the gravesites of Susan B. Anthony – famed women's rights activist pivotal to the women's suffrage movement and Ida Jane Anderson who was the first registered nurse in NY.
Cayuga Museum of History & Art – 203 Genesee Street, Auburn NY 13021
See where an astounding amount of history that was made in Northern New York that had global impacts. The museum is comprised of The Willard Case Mansion, the fully restored Case Research Lab, and the estates carriage house. *Note that the Willard Memorial Chapel was built and furnished by the Willard Sisters Caroline & Georgiana.
Women's Rights National Historical Park – 136 Fall Street, Seneca Falls NY 13148                                                                                 
Visit on July 19-20, 2020 for the exact anniversary of the first Women's Rights Convention. While this location is currently closed, the amount of history and legacy it contains is stupendous and worth a return visit.