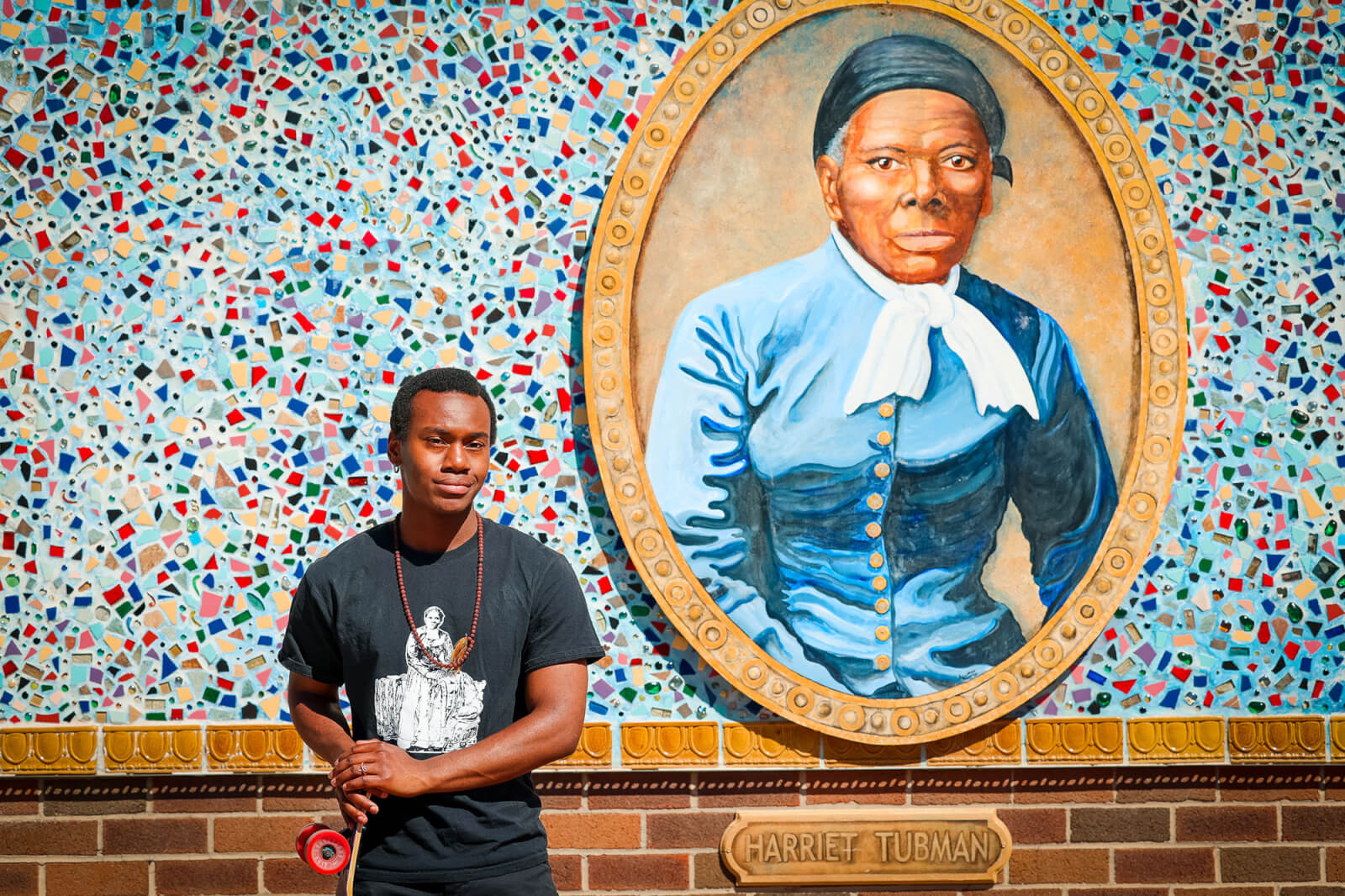 Local Businesses Honoring Harriet Tubman's Life and Legacy
By: Staff
In honor of the bicentennial birthday of Harriet Tubman, Tour Cayuga developed a grant program designed to encourage diverse business owners to develop events/programs or performances that highlighted Harriet Tubman's life and legacy and promoted diversity, equality, and inclusion. All organizations applying for the grant were encouraged to have a DEI (Diversity, Equity and Inclusion) statement.
The board of Tour Cayuga authorized two round of grants and a total of $36,000 was awarded. In total the grant supported 17 events. A total of 3,800 people attend these events.
Congratulations to all the 2022 recipients of the 2022 Harriet Tubman Grant.
Seward House Museum
Project: In partnership with Harriet Tubman National Historical Park, the Seward House Museum hosted a community-wide watch party of the PBS'  documentary: "Harriet Tubman: Visions of Freedom."
Howland Stone School Museum
Project: "All are Welcome Here: African-American Connections to Sherwood"  Including, The Tubman story as told by an impersonator, including her friendship with the Howland family, a daguerreotype exhibit depicting Emily Howland' an exhibit on abolitionism and the UGRR in Sherwood and a commissioned Ellen Blalock quilt to commemorate Howland''s induction into the Women''s Hall of Fame.
Booker T Washington Community Center
Project: Juneteenth celebration in Auburn, NY. Celebration will start at the Heritage Center with a parade that will end at Booker T. Washington Community Center. It will include bands, food, vendors, programming for youth, and an array of information regarding Black History, Juneteenth, and Harriet Tubman.
RB Entertainment
Project: An evening of cocktail, food, music, and awards to kick off Juneteenth weekend. Awards will be given to honor Harriet Tubman, Booker T Washington and the Big Brother and Big Sister program.
aaduna Inc
Project: "Voices in the Legacy of Tubman" Spoken word event celebrating the legacy of Tubman by recognizing the spirit of two important and revered poets/writers/artists who have passed. Charles Seabe Banks and Jackie Warren-Moore who are prior aaduna contributors and readers.
CNY Sports Management
Project: "Harriet Tubman's Chet Copes Classic"
Basketball tournament engaging young audiences elevating Harriet Tubman's name. Harriet Tubman Chet Copes Classic. Chet Copes was descended of Harriet Tubman. Trophies will be given out in honor of Harriet Tubman and Chet Copes.
Auburn Public Theater
Project: A weeklong program with Slim Freedom. Slim taught a weeklong music camp. Public concert was held with students and instructors from the camp on Friday evening anda solo performance on Saturday, July 23rd.
Montezuma Historical Society
Project: "The Path to Freedom: The Eliza Story" The Path to Freedom: The Eliza Story will reenact the life story of a runaway slave performed to the public free of charge.
Harriet Tubman Boosters
Project: A ribbon cutting event and celebration of the Harriet Tubman mural installed on the west-facing side of the Nolan Block building. More information on the mural can be found on the website www.tubmanmural.org .
Cayuga Community College
Project: Cayuga Film Festival The Cayuga Film Festival's mission is to support and celebrate local and independent New York State film makers' work and provide a platform to share it with the community and the world! This year the festival's Harriet Tubman Freedom Award recognizes her commitment to freedom and equal rights by giving the award to an established filmmaker whose body of work demonstrates a commitment to Harriet Tubman's ideals of equal rights and freedom for all. The recipient conducts a screening/discussion.
Schweinfurth Art Center
Project: Hosted a solo exhibit by Black artist Quinn Hunter entitled "Here/Hear." She highlighted the destruction of prominent Black neighborhoods in 1960s Detroit to build freeways that led to redlining.

 
Fair Haven Community Art Center
Project: 3 day event will educate the public about several women who changed the course of history' Harriet Tubman, Martha Wright, Frances Seward & others. These women's lives intersected in Auburn, NY; the synergy that developed brought great things to life. Day 1-Local historian will provide overview of the lives of Harriet Tubman & others along with film clips. Day 2-Harriet Tubman film. Day 3-reading of an original play "Five Women who Shook the world".
Genesee Parent Teacher Partner
Project: Genesee 4th grade students have been invited by the Harriet Tubman Boosters to their event celebrating the 200th anniversary of Tubman's birth. The week prior, Genesee students will have worked with folk duo Greg Artzner and Terry Leonino (known as Magpie) to create a song about Harriet Tubman. The students will be singing this song, accompanied by Magpie who will sing other songs created by Genesee 4th graders in the past.
Authentic Leadership LLC
Project: Lead Like Harriet Values-based Transformation Journey addresses universal values that allow the participant to examine themselves from the inside out. The participants will examine six Harriet Tubman values. The event is geared toward anyone willing to learn and live good values, value other people, and collaborate with others.

Auburn/Cayuga NAACP
Project: Freedom Fund Gala Honoring the Legacy of Harriet Tubman. The event will honor Harriet Tubman's Legacy by honoring community leaders who have exemplified the tenants of Harriet Tubman through their commitment to the Cayuga County community.
EID Blueprint, LLC
Project: Create pathways to employment opportunities and to ensure diversity in the County workforce, this workshop is designed to development the leadership traits needed to be an asset to the employer. Each session will focus on communication, self-awareness, and social/emotional development. Workshops will cover employer/employees' expectations, what appropriate interview attire is, and role playing how to interview for a job opportunity. A 4hr internship will complete each session with feedback.
Canal Society of NYS-
Project: "The Remarkable, Irresistible Erie" is a 90-minute concert on October 15, 2022, presenting songs and stories of the Erie Canal. This Albany-based group presents nearly twenty vignettes representative of life along the Canal, based on real individuals and events. The life story of Thomas James is one such major element. Born enslaved in 1804 in Canajoharie, he escaped to Canada following the path of the Erie Canal, becoming a leader in the African Methodist Episcopal Zion Church.
The organizations who participated were extremely grateful for the support, many stating that the event wouldn't have occurred without the grant.
Quotes from recipients include:
 "the Tubman watch party event would not have been possible with our funding from Tour Cayuga"

Seward House Museum
"Your grant was instrumental in putting together a wonderfully successful event this year!"

Cayuga Film Festival
"Without a doubt, the support from Tour Cayuga was a critical underpinning to meeting the expenditures of the event, and without such grant support, certain creatives could have included in the gala."

Aaduna
"While the article laid dormant in the archives of a local newspaper since 1896, Tour Cayuga's financial support provided the opportunity to reveal its truth at this time when we are so deeply in need of understanding the human story"

Montezuma Historical Society
———————————————-
The Cayuga County Convention and Visitors Bureau Inc. was established in 1995 as Cayuga County's official tourism promotion agency. Our mission is to promote, support and increase tourism and thereby stimulate economic growth and improve the quality of life for area residents.