Editorial Contact:
Meg Vanek
Executive Director
Cayuga County Office of Tourism
131 Genesee Street
Auburn, NY 13021
(315)255-1658/800-499-9615
email: meg@tourcayuga.com
Cayuga County Tourism Celebrates
20th Anniversary
20 years of Tourism Promotion in Cayuga County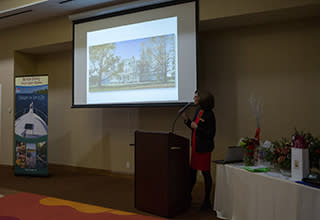 December 2, 2015 - Cayuga County, NY – 60 people gathered at the Hilton Garden Inn in Auburn on Tuesday evening, December 1, 2015 to celebrate the 20th Anniversary of the Cayuga County Convention and Visitors Bureau (CCCVB), the official tourism promotion agency for Cayuga County.
The Cayuga County Convention and Visitors Bureau was incorporated in December 1995 as a not for profit corporation with the purpose to develop, plan, enhance, oversee, coordinate and promote tourism and tourist related activities within and/or for the benefit of Cayuga County. The intial directors of the corporation were Linda VanBuskirk, Vijay Mital, Peter Jones, Robert Brower, Richard Paulino and Roger Mills. Vijay Mital, the former director of the Office of Planning & Economic Development for the City of Auburn, attended the event and was greeted with applause for his foresight and vision in helping to develop the corporation.
While the organization has evolved over the years, the primary goal is still the same: to work on behalf and in conjunction with our tourism partners to support tourism as a means of economic development. The organization strongly advocates for regional collaboration, understanding that an integrated approach allows individual businesses, organizations, events, and communities to expand their reach and leverage their impact in the marketplace.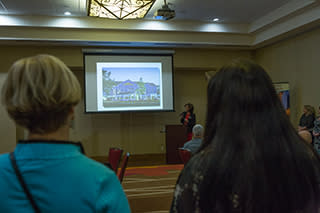 Meg Vanek, executive director of the CCCVB since 1997 gave a brief presentation, reminding the audience of some of the tourism developments that have occurred over the past ten years, including the building of the Hilton Garden Inn in Auburn, the opening of the Rowland House in Aurora, the birth of the craft brewing industry in Cayuga County and many other projects encouraged and supported by tourism.
Tourism is one of the fastest growing industry's in New York State, and in Cayuga County contributes over a $100 million dollars in visitor spending to the local economy.
About the Cayuga County Office of Tourism
The mission of the Cayuga County Office of Tourism is to promote, support, and increase tourism and thereby stimulate economic growth and improve the quality of life of area residents.