Finger Lakes Region visitors coming to Auburn & Cayuga County should plan on enjoying the stops along Auburn's new Public Art Trail. Downtown Auburn now boasts over a dozen public art installations including mosaics, sculptures, painted & vinyl murals and banners. Now, it will be easy & fun to visit these sites, since they're featured in a new brochure with bright, colorful graphics and a large-scale map with informative descriptions.
Art Trail stops include work by grand-scale outdoor commercial muralist Anthony Clubine, who brought new life & vibrancy to many brick walls downtown, while celebrating the businesses located there. Clubine's trail stops include painted murals on the Colonial Laundromat, Eliminator Automotive &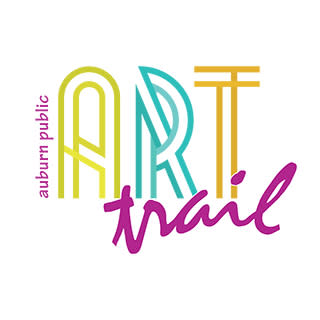 Cycle, the Liberty Store, and Dance Hall Antiques.
The Community Mosaic Project's stops include several outdoor installations created with the enthusiastic help of hundreds of volunteers. Locations include Angelo's Pizza, the Boyle Center, Exchange Street, and the "Sam Kennedy: Tree of Life," on The Citizen building. Other Public Art Trail sites feature outdoor vinyl art banners, a metal sculpture and two indoor painted murals.
If you're visiting then, please come to the unveiling event May 1st and talk with the artists, then tour the sites. To request a brochure call the tourism office at 800-499-9615 or visit www.auburnarttrail.com & like "Art for Auburn," on Facebook.