by Colleen Onuffer
Juneteenth is the oldest celebrated recognition of the ending of slavery in the United States. The first Juneteenth celebrations began in 1866 in Galveston, Texas. However, it wasn't until 2021 that Juneteenth became a nationally recognized holiday. Today, the observance of June 19th as the African American Emancipation Day has spread across the United States and beyond.
For Auburn, NY, the chosen home of Harriet Tubman, the spirit of Juneteenth is alive. Visit Harriet Tubman's hometown and join in on a weekend-long Juneteenth celebration (June 16-19, 2022), commemorating Black and African American freedom and achievements.
Information about Juneteenth in Auburn is available here and being updated as more details and events are added.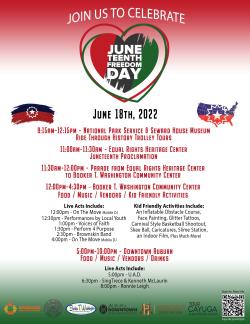 Here are some highlights of the weekend:
Harriet Tubman Walking Tours: June 16, 17, & 18
Harriet Tubman National Historical Park will lead free "Hike Through the History of Tubman" walking tours from the NYS Equal Rights Heritage Center. There will also be a "Harriet Tubman's Home in Freedom" tour at the 180 South Street homesite, and National Park Service Rangers available at the Equal Rights Heritage Center for free gallery talks.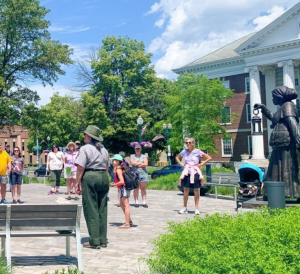 Movie on the Lawn: June 16
Enjoy a free, nighttime viewing of the 2019 film Harriet on the lawn at the Equal Rights Heritage Center. This film tells the extraordinary tale of Harriet Tubman's escape from slavery and transformation into one of America's greatest heroes.
First Annual Juneteenth Gala: June 17
Celebrate those in the Auburn community that live Harriet Tubman's legacy at the First Annual Juneteenth Gala. In addition to community awards, there will be hors d'oeuvres, an open bar and music.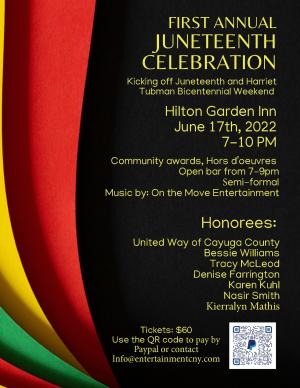 Juneteenth Parade & Celebration: June 18
Enjoy a jam-packed day dedicated to Juneteenth:
Join the City of Auburn Mayor Quill and Council Members for a Juneteenth Proclamation and other special readings at the Equal Rights Heritage Center, followed by the first annual Juneteenth Parade, which will head down historic South Street to the Booker T. Washington Community Center.
Take a free "Ride Through History" narrated trolley tour as it drives past the Seward Mansion, Seward Park, the Tubman and Seward gravesites, Tubman's church, and through the Historic Black Neighborhood of Auburn.
Enjoy a Juneteenth Celebration at Booker T. Washington Community Center with food, music, more than 30 vendors, and kid-friendly activities including an inflatable obstacle course, face painting, basketball shootout, slime station, and indoor film showing.
Attend the Schweinfurth Art Center Presents: An Artist Lecture by Quinn A. Hunter - sculptor and performance artist behind the Here/Hear exhibit, which revolves around the erasure of Black bodies and culture.
End the evening at Next Chapter Brewpub in downtown Auburn with a night of live music, food, vendors, and craft beers.
WOMBA- African Drum and Dance Group: June 19
Watch the Womba Africa Drumming and Dance Group, originally from the town of Nungua, Africa, as they share the culture of Ghana through dance and music at the Historic Willard Memorial Chapel.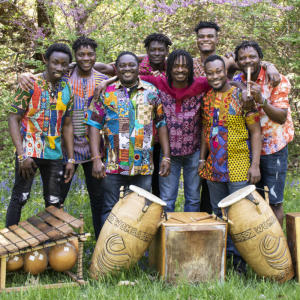 Make more of your Juneteenth weekend! While visiting Auburn, celebrate the life and legacy of Harriet Tubman at these stops: