Cayuga County has some of the most breath taking and abundant natural scenery, over 65 miles of multi-use trails to be exact! Hiking, waterfalls, bike paths, birding and fishing are just a few ways to get out and enjoy Cayuga County's natural beauty. As the weather turns to the beautiful summer sunshine and warm temperatures it's the time to get out and get some fresh air, don't forget to bring along your camera to capture the beauty from the farmlands to the forest.
While most of us are anxiously waiting to get back out there we have a couple of tips to help you be safe when you do.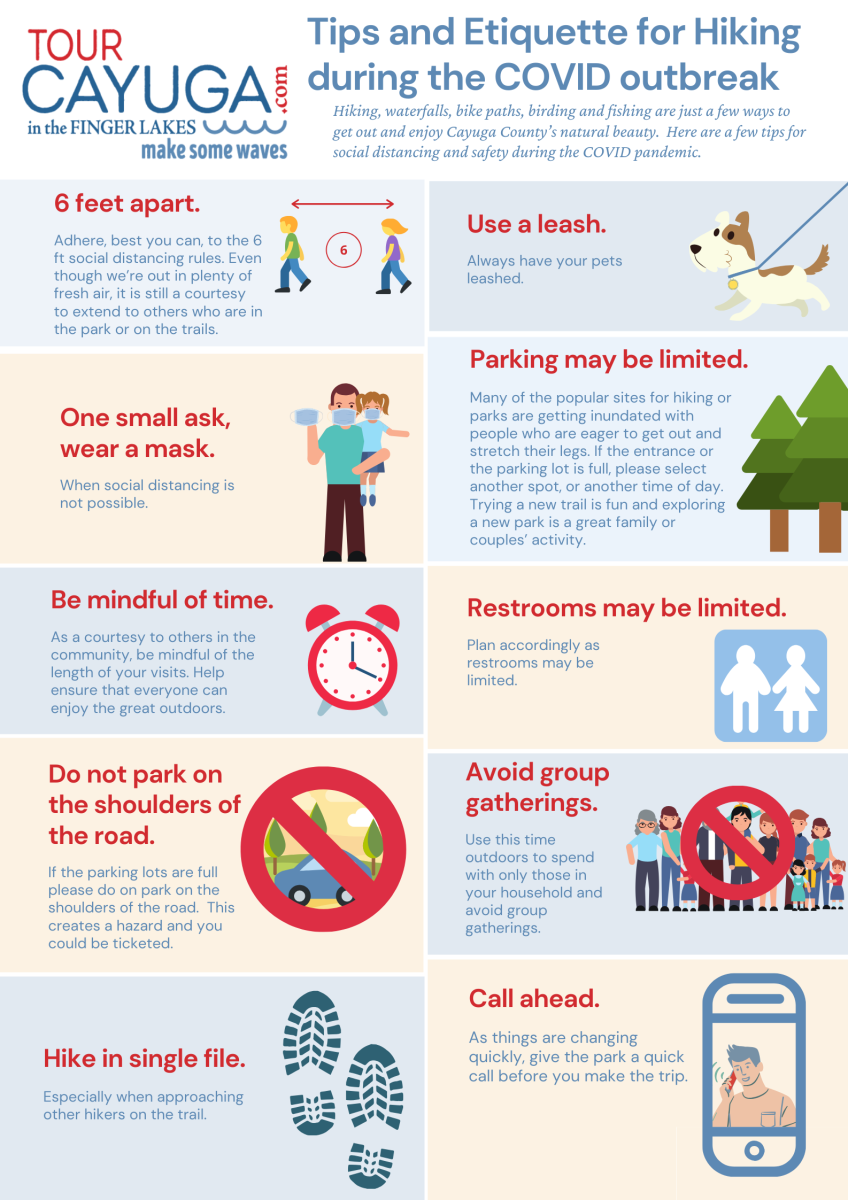 1. Adhere, best you can, to the 6 ft social distancing rules. While we're out in plenty of fresh air it is still a curtesy to extend to others who are out in the park or on the trails.
2. Many of the popular sites for hiking or parks are getting inundated with people who are eager to get out and stretch their legs. If the entrance or the parking lot is full, please select another spot, or another time of day. Trying a new trail is fun and exploring a new park is a great family or couples' activity.
3. If the parking lots are full, please don't park on the shoulders of the roads.
4. Hike in single file, especially when approaching other hikers.
5. Use this time outdoors to spend with only those in your household and avoid group gatherings.
6. As a courtesy to others in the community, be mindful of the length of your visits. Help ensure that everyone can enjoy the great outdoors.
7. "One small ask, please wear a mask" When social distancing is not possible.
8. Plan accordingly as restrooms may be limited.
9. Always have your pets leashed.
10. Call ahead if you have questions. As things are changing quickly, give the park a quick call before you make the trip.
With exploring parks or walking trails under new guidelines and considerations seeming a bit daunting or like the fun is being taken out of it, try to take this as an opportunity to have a better appreciation of nature. Remember that most trails are open through out the year, with current circumstances make sure that you do a little research before you do up your laces!
For more information and ideas of outdoor recreation visit our Outdoors/Recreation page!