Savor the flavors of the Finger Lakes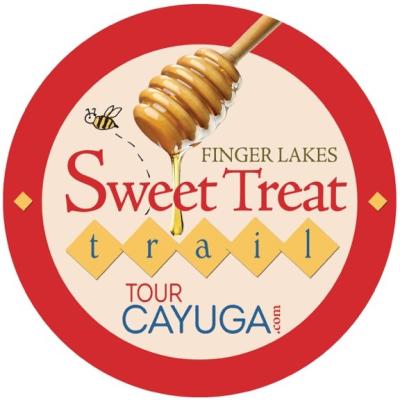 The family-friendly Finger Lakes Sweet Treat Trail is all about the unique sweets and treats that Cayuga County has to offer. The 20 stops along the trail include bakeries, farm stands, stores, ice cream shops, u-pick orchards, eateries, and cafés, all featuring locally grown or produced sweet treats. From north to south in Cayuga County, it seems like all roads lead to yummy goodness! 
New partners in 2021 include Café 108, Dugan's Country Grill, Moonflower Macarons, Rudolph's Ice Cream, The Village Market in Aurora, and XL Cookie Company. Many are new businesses, so let's show them some love! 
Returning to the trail this year are Fly-By-Night Cookie Co., Gretchen's Confections, King Ferry Corner Store, Morgan's Half Acre Produce, Muzzi's D'Italia Ice, New Hope Mills Store & Café, Octane Social House, Owen Orchards, Reese's Dairy Bar, Smokey Hollow Maple Syrup, Standing Stone Honeybee Products, Strawberry Fields Hydroponic Farm, and the Taste NY Market. All tried and true favorites! 
Look for the Sweet Treat Trail Original Goodie seal of approval to find unique products designed with the trail in mind. Indulge in decadent chocolate at Gretchen's Confections, a tantalizing berry shortcake sundae at Rudolph's Ice Cream, deluxe maple syrup products by Smokey Hollow Maple Syrup like bourbon barrel aged syrup and cinnamon maple sugar, and fan-favorite strawberry-cherry-almond jam at Strawberry Fields Hydroponic Farm. New this year, two of our partners have collaborated to make something extra special- a brand new ice cream cookie made by Reese's Dairy Bar and XL Cookie Company. I cannot wait to try them all!
The Sweet Treat Trail is open beginning May 1 and covers three seasons of sweet treat goodies from tasty strawberries in June to crisp local apples through the holidays. Travel the trail and have your pass stamped at any 10 different stops for a chance to win a Sweet Treat Trail basket of goodies! Visit all 20 sites and be entered into the grand prize drawing, including all the same goodies plus a $50 gift card! Be sure to submit your pass before the drawing on December 1. 
Whether honey or jam or homemade cookies made with locally grown and produced products, the Trail has everything to satisfy your sweet tooth cravings. Don't miss out, plan your visit today!