The Tuxill House -  Affordable and Beautiful
Looking for a beautiful guest house in the Finger Lakes? You will love Tuxill House, an historic home that is now available for a short or long stay. Tucked on a quiet residential side street close to downtown, Tuxill House will warm your heart. Hardwood floors invite you into this lovely home and immediately you'll be impressed with the exquisite oak woodwork. There's a library literally loaded with books, a living room with lovely pocket doors and ample seating, and a dining room with a wide bay window complete with a window seat; a perfect spot to dream or plan your day. The kitchen with white wainscoting is equipped with dishes, a microwave to "refresh/heat up" take out, a  refrigerator—to store some of your delicious Finger Lake wines and cheeses. And breakfast is offered to guests.
The water closet on the first floor will amaze you with the cleverest sink I've ever seen. Talk about efficient!
Upstairs are four bedrooms each charming and special. The Seward Room with a queen size bed is Aleutian-colored and only $89/night. Edith's Room has a double bed and on the dresser you'll find Edith Tuxill's black and white photograph taken in 1906. This pretty room that gets bathed in early morning sunlight is just $79/night. The Tubman Room in soft colored coral has twin beds that can be separate or scooted together to create a king size bed. This room is $89/night. The Owasco Room has a queen size bed and this room is very quiet except for the wind you can hear rustling through the trees. It's spacious and demure for $99/night. Plus being the master bedroom it can claim its own bathroom. All bedding in every room is hypoallergenic. Even the oak doors in each room have authentic scrolled door knobs.
There are two bathrooms on this floor and one of them is big enough for a dance floor. The attic can be used for yoga and meditation. A few mats on the floor are perfect for sitting and the funky linoleum will make you smile. There are two washers and dryers in the basement for guests staying for a length of time. This place has feng-shui to the hilt. The lamp in the foyer is of a beautiful woman relaxing and that's just what you'll do here, relax and enjoy the proximity of downtown while being tucked away at Tuxill House.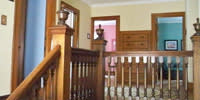 This guest house is perfect for travelers who appreciate charming woodwork, ornate banisters, window seats, and clean spacious rooms. You could rent the entire house (that sleeps 8) for $250/night. What fun you could have in this beautifully situated historic house.  The perfect accommodations for a small wedding party, for honeymooners, family gatherings, or a girlfriend get-away. Sit on the front porch and enjoy the season. After a day of hitting the wine trails, you can come back and relax in this pleasant atmosphere. With many plays, musicals, artisans, Auburn is a small city jammed pack with history. It's just a short walk to the Cayuga County Office of Tourism to plan your days hiking, biking, swimming, skiing, shopping, eating at amazing restaurants, or seeing anyone of a zillion plays during the Finger Lakes Musical Theatre Festival.
The Seward House Museum is a short walk and the museum will quickly bring you back to the days of Abraham Lincoln and to the home of his trusted Secretary of State, William. H. Seward. Whatever your plans while visiting the Finger Lakes you will surely enjoy this lovely guest house. Check it out at Tuxill House and see for yourself~
---
Bobbie Panek lives in Central NY. She's a poet, writer and wanderlust. You can read more about her at Bobbiepanek.com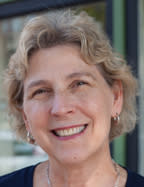 ---