Spring is almost here but here is still time to get out and enjoy a winter walk! Did you know that according to the American Heart Association, a daily walk is one of the best things you can do for your health? Walking for an average of 30 minutes a day can lower the risk of heart disease, stroke by 35% percent and Type 2 diabetes by 40%. When in good mental and physical health, the areas of life that are important to us – family, friends, work, and community are enabled and empowered.
A winter walk or hike offers a refreshing change of pace and the invigorating cold air can clear your mind and help reduce stress. So, bundle up and head outside. Only 10 - 15 minutes of walking a day can have a positive impact on your health. Whether you wander in your neighborhood, stop by a favorite park or hike one of our many trail systems, your heart will thank you for getting moving.
Health benefits of walking:
Increased heart and lung fitness.
Reduced risk of heart disease and stroke.
Improved management of conditions such as hypertension (high blood pressure), high cholesterol, joint and muscular pain or stiffness, and diabetes.
Stronger bones and improved balance.
It's a mood elevator!
Staying connected, walk with a friend, spouse, or a furry friend!
Here in Cayuga County, we are lucky to have so many choices… with three State Parks and many trails and parks to choose from the only hard part will be choosing were to go to enjoy a walk or hike. Did you know that we have over 65 miles of trials to choose from!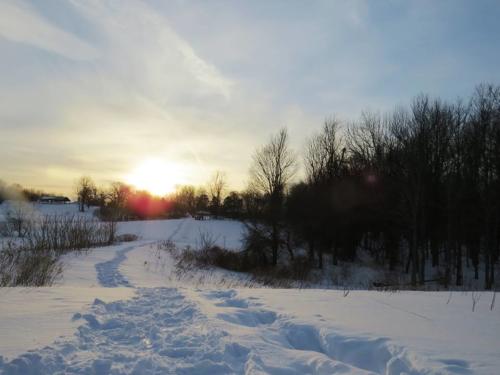 State Parks boasts trails for all levels and great scenery:
Fillmore Glen State Park in Moravia
Long Point State Park in Union Springs
Fair Haven State Park in Fair Haven
Other trails to enjoy include:
Enjoy a little history along the trail when you travel the Erie Canal Recreational Trail. Choose to walk on the historic towpath or take the meandering trail through Montezuma Canal Heritage Park where you can view the magnificent Richmond Aqueduct, the second largest aqueduct on the Erie Canal. 
Sterling Nature Center is a great place for a hike to explore the fields and forests of the nature center in search, birds, mammals, and other active wildlife. The grounds are free and open to the public and pets are welcome, just be sure they are on a leash.  It can be windy and colder by the water so remember to dress properly for the weather by Lake Ontario. Snowshoes are available to borrow free of charge. The center also offer monthly educational walks and events, these are free and open to the public. This month join them for the Signs of Spring walk on Friday March 24 at 1pm or Saturday, March 25th at 1pm. To pre-register email snc@cayugacounty.us.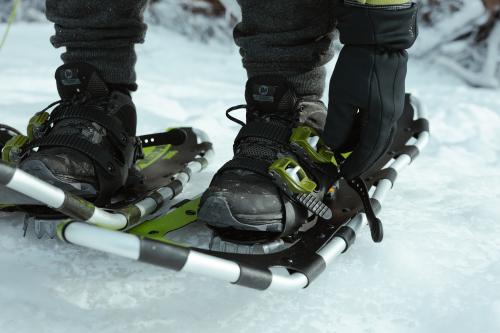 Carpenter Falls just installed an elevated boardwalk and viewing platform, constructed to be accessible to people with disabilities, allowing all visitors the opportunity to view the upper falls as it cuts through a notch in the massive overhanging limestone caprock and plunges over 80 feet into a deep pool.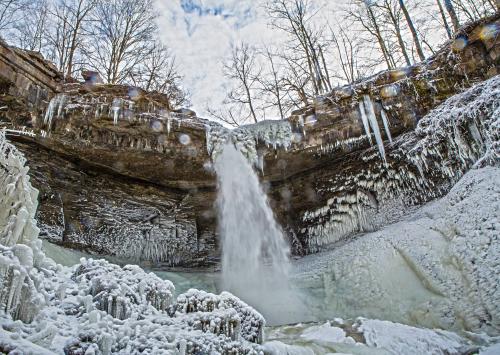 For more ideas on places to explore click here.
After a nice brisk walk warm up at one of the charming restaurants in the area and stop into one of the shops for some locally made items.
In Fair Haven stop by the Hardware Café and General Store for a great home cooked meal, while waiting for your meal, you can shop for locally made items. If you are not in the mood for a sit-down meal stop by Sweets by Sarah and pick up a fresh hot cup of coffee and a few sweets for the road.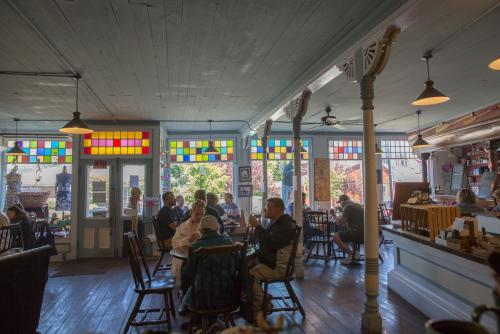 In Moravia stop by 10-10-BBQ  they offer any and all kinds of BBQ: Ribs, Chicken, Brisket, etc. anything that can be cooked on a grill or smoker!
If farm to fork cuisine is your style check out Salt of the Earth in Union Springs.  They feature NYS craft beer and wine to pair with a seasonal menu inspired by local farm-to-table ingredients.
Note: Before heading out please check with the place you are planning on visiting to be sure they are open. Sometimes hours change due to weather conditions. Also, if you are planning on bringing your furry friend, check out the park's website for guidelines.