Route 90 - 50 Mile Garage Sale
July 29-30, 2023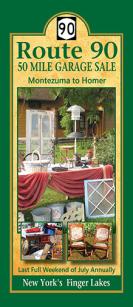 The annual 50-mile Route 90 Garage Sale takes on a festival atmosphere each year as friends, family members and the occasional family dog go searching for surprises.  Stretching along the roadside of Route 90, a New York State Scenic Byway, the sale runs from Montezuma in the north to the Village of Homer at the southern end. 
Along the way you will find everything imaginable from antique andirons to zebra prints and loads of other unexpected delights.  Always the last full weekend in July the official hours for the sale are 9 a.m. to 5 p.m. both days, rain or shine. 
If you get hungry during your search for that collectable or unique item, there are plenty of creative food options.  Local clubs, fire departments and organizations put on breakfasts, bake sales, and BBQ's all along the way.  
Looking for the Route 90 brochure?  Click on the image to the left to download your copy of the brochure or call 800-499-9615 to request a copy to be mailed out to you