Finger Lakes Sweet Treat Trail
The family-friendly Sweet Treat Trail is all about the unique sweets and treats that Cayuga County has to offer.  Whether it's honey or jam or homemade cookies made with locally grown and produced products, the Trail has everything to satisfy your sweet tooth cravings.  The 20 stops along the trail include farmers' markets, bakeries, farm stands, stores, ice cream stands, u-picks and cafés, all featuring locally grown or produced sweet treats.  From north to south in Cayuga County, it seems like all roads lead to yummy goodness! 
The Sweet Treat Trail is open May 1 – December 1, covering three seasons of sweet treat goodies from tasty strawberries in June to crisp local apples through November. Travel the trail and have your pass stamped at 10 different stops for a chance to win a Sweet Treat Trail basket of goodies! Visit all 20 sites and be entered into the grand prize drawing, including all the same goodies plus a $50 gift card!
Whether it's honey or jam or homemade cookies made with locally grown and produced products, the Finger Lakes Sweet Treat Trail has something to satisfy everyone's sweet tooth!
Harriet "Minty" Tubman, the most successful conductor of the Underground Railroad, chose Auburn NY as her hometown. She lived 54 years in freedom in Auburn were she owned land and grew apples. She also brewed root beer, baked pies and gingerbread to sell to Union soldiers while she fought in the Civil War. 2022 marks her 200th birthday and therefore we dedicate the  2022 Sweet Treat Trail season to her with these delicious treats. 
Introducing Harriet Tubman Sweet Treats created for the 2022 Season.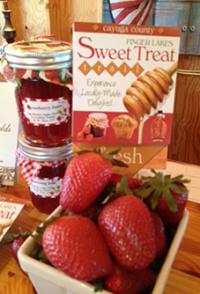 Cafe 108...Harriet Tubman Gingerbread Cookie
Gretchen's Confections...The Tubman aka The Land of Milk and Honey
Moonflower Macarons...Strawberry Inspired macarons
Morgan's Half Acre Produce...Harriet Hand Pie (apple-strawberry treat)
New Hope Mills Store and Cafe`...Strawberry Mint Milkshake
*Octane Social House...Trailblazer Chili~Pepper"Minty" Mocha~Tubman Truffle
**Reese's Dairy Bar...Minty Strawberry Sundae
Rudolph's Ice Cream...Harriet's Root Beer Float
Strawberry Fields Hydroponic Farm...Fresh Strawberries
*Witmers Country Market...Honey Spoons  (made with real honey) Enjoy with tea.
*Please note: Octane Socal House and Witmers Country Market are no longer in business.
**Reese's Dairy Bar has closed for the season.
Be sure to follow and like us on Facebook and Instagram for the latest updates and tag us in your sweet adventures! 
Living the Sweet Life in Cayuga County
Event details for the Finger Lakes Sweet Treat Trail.
Find all of the sweet stops along the trail!