Juneteenth Celebrations
Harriet Tubman Invites You to Celebrate Juneteenth in Her Hometown

 Join us for a weekend long Juneteenth Celebration to commemorate Black and African American freedom and achievements June 16-19, 2022.
Juneteenth marks the end of slavery in the United States. The celebration began on June 19, 1865, which became known as Juneteenth, when Major General Gordon Granger of the Union Army arrived in Galveston, Texas to deliver the final execution of the Emancipation Proclamation. 
For all of us here in Auburn, NY, Juneteenth goes just a little deeper. As the chosen home of Harriet Tubman, the spirit of Juneteenth is alive. It not only commemorates the emancipation of African Americans in the United States, but also celebrates their achievements in history and the fight for a stronger, brighter and fairer future. While in Auburn keep Harriet Tubman's strength and spirit in mind as you visit the many sites that commemorate her life and fight for freedom. Make sure and stop by her gravesite at Fort Hill Cemetery to leave a little memento in her honor.
Click on picture for larger view or here for the Official Press Release
---
Thursday, June 16, Friday, June 17 and Saturday June 18, 2022
Harriet Tubman National
Historical Park Tours
10:00am-   "Hike Through the History of Tubman" walking tours . Tours will depart from the NYS Equal Rights Heritage Center, 25 South Street.
2:00pm - "Harriet Tubman's Home in Freedom" tour at the 180 South Street homesite. Contact kimberely_szewczyk@nps.gov or (315)882-8060 for reservations.
4:00pm- National Park Service Rangers will also be at the Heritage Center at 25 South Street at 4:00pm to present free gallery talks, no registration needed.
---
Thursday, June 16, 2022
Movie on the Lawn: "Harriet"


Join us on the lawn at the NYS Equal Rights Heritage Center at 8:30pm or dark for a viewing of the 2019 film Harriet.

Harriet tells the extraordinary tale of Harriet Tubman's escape from slavery and transformation into one of America's greatest hero's.

Movie is rated PG-13 and runs 2 hours and 5 minutes and admission is free.
---
Friday, June 17, 2022
First Annual Juneteenth Celebration
at the Hilton Garden Inn
Featuring Community Awards

Music by On the Move Entertainment                                                 

7:00-9:00pm-Hors d'oeuvres and Open Bar

Tickets: $60     For more information or to reserve your spot contact: info@entertainmentcny.com

 
---
Saturday, June 18, 2022
Opening Ceremonies
Equal Rights Heritage Center
Juneteenth Proclamation

City of Auburn Mayor Quill and Council Members invite everyone to join them in the courtyard of the Heritage Center for the official City of Auburn Juneteenth 2022 Proclamation Ceremony and other special readings.

Join the first annual Juneteenth Parade from the the Equal Rights Heritage Center down historic South Street to the Booker T. Washington Community Center. Interested parade participants please contact tgilliam@caphelps.org for an application, registration deadline is May8.
Ride Through History Trolley Tours
Sponsored by the National Park Service and The Seward House Museum
LOCATION:
Meet your ranger at the Lincoln Street entrance to the NYS Equal Rights Heritage Center at 25 South Street, Auburn NY.

DATE:
Saturday, June 18,2022

TIMES:
9:15 am
10:15am
11:15am
12:15am

DURATION:
Tours are 45 minutes in length

Join a National Park Service Ranger and the Seward House Museum's Director of Education for a narrated trolley ride through history. Learn the significance of Juneteenth and the intertwined stories of Harriet Tubman and the Seward Family. Tour will travel by the Seward Mansion, Seward Park, the Tubman and Seward gravesites, Tubman's church, and through the Historic Black Neighborhood of Auburn.

We hope you can join us!
This tour is free, open to the public and is suitable for all ages.
Reservations are suggested.

Seating in limited so reservations are encouraged. Call 315-882-8060 to reserve your seat.

This tour is free and open to the public.
Booker T. Washington Center Events
The Booker T. Washington Center will host an afternoon Juneteenth Celebration complete with Food, music, over 30 vendors and kid friendly activities. Join us for family friendly fun!


Inflatable Obstacle Course
Face Painting
Glitter Tattoos
Carnival Style Basketball Shootout
Skee Ball
Caricatures
Slime Station
Indoor Film
Plus Much More!

Noon- On the Move  mobile DJ                                                                                    

12:30pm- Performances by local youth

1:00pm-Voices of Faith

1:30pm-Perform 4 Purpose              

2:30pm- Brownskin Band

4:00pm-On the Move Mobile DJ                                                                   

Brownskin Band

 
Downtown Auburn
Evening Events
The Juneteenth weekend celebration will end with a night o live music, food, vendors and drinks from Next Chapter Brewpub in downtown Auburn. Evening will be emceed by Booker T Washington Community Center Board Member Brian Muldrow.

5:00pm- Classic R&B with: U.A.D

6:30pm-Soul/Comedy Duo: SingTrece and Kenneth McLaurin

8:00pm- Sammy Hall of Fame Jazz Legend: Ronnie Leigh

   

SingTrece                                                                  Ronnie Leigh
Sunday, June 19, 2022
Willard Memorial Chapel
2:00-3:30pm
WOMBA- African Drum and Dance Group
The Womba Africa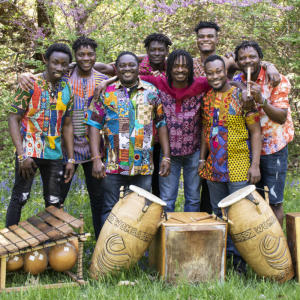 Drumming and Dance Group are making their way to the Historic Willard Memorial Chapel for the first time!  Originally from the town of Nungua, Africa, the Womba Africa Drumming and Dance group shares the culture of Ghana through dance and music. Performances are culturally unique in so many ways from their costumes, instruments, rhythms, dance, and songs all originating from West Africa.  
Womba Africa is a cultural drum and dance group formed in the town of Nungua. The members are part of the Ga Adangbe People in greater Accra, Ghana, a tribe with a very rich history and culture quite distinct from other major ethnic groups. The Womba Africa band typically performs with the Ga language because almost all members are from Nungua, a Ga speaking community.
This event is $10 per person. The Chapel is handicap accessible through its north entrance off Seymour Street. Tickets are available at Willard Chapel, 17 Nelson Street, Auburn, NY during our regular hours Wednesday-Friday 10 AM – 4 PM or call 315-252-0339.