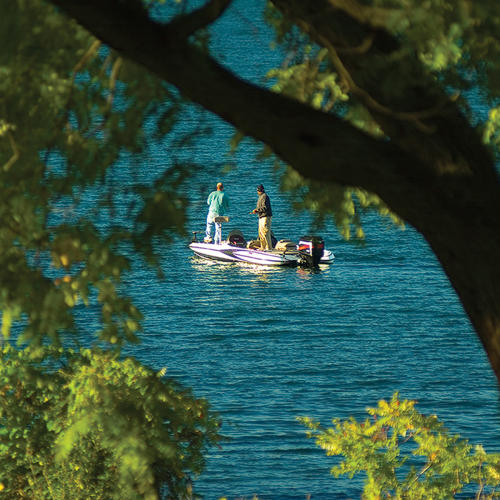 Fishing Owasco Lake
By: George Fiorille

Cayuga County has parts of 3 different Finger Lakes located within its boundaries. But, Owasco Lake is the only Finger Lake totally located inside of Cayuga County's borders.
Owasco in the Iroquois language means the passage. The lake is almost 11 miles long and is just over 1-mile across at its widest area. Owasco plummets down to 177-feet at its deepest spot. Information gained by Syracuse University years ago came up with data that at its deepest spot, the bedrock actually starts at 350-feet. Glaciers filled in the lakes instead of digging them out.
Owasco Lake with its northern shoreline located in Auburn, New York and the southern shore line just 4 miles north of the village of Moravia, New York, offers anglers quality fishing during all 4 seasons. Many anglers classify Owasco Lake as a trophy lake.
If you research some of the largest fish caught in Owasco over the years, it's pretty impressive. Lake trout over 25 pounds, northern pike at 25 pounds, brown trout over 22 pounds, 14-pound walleye, rainbow trout in the high teens, smallmouth bass just under 8 pounds, largemouth bass in the nine-pound range, perch pushing 2-pounds, and pumpkinseeds at a couple of pounds top the list.
Like most Finger Lakes, Owasco is shallow on both ends and drops off very deep in the middle. Its average depth is around 96-feet. Several years ago, there were very little weed beds in the lake. Due to erosion and too fertile runoffs thanks to farming and sewer plants, the lake has aged tremendously the past 50 years. The lake now sports several weed beds all around the lake's shallow littoral zones. This additional cover has provided for better warm water angling.
Spring
As soon as ice out is over, area anglers flock to Owasco Lake for the abundant perch fishing. Good areas are both the north and south ends and any other areas that support weed growth. Anglers score well with fat head minnows or small crawfish. Lures such as small grubs, jigs and spoons work great.
Trout fishing in the lake is open year-round and anglers score well with brown trout or lake trout. Lake trout can be caught trolling or vertical jigging. Browns invade the colored warmer water and hit well trolling stick baits and spoons.
April 1 signals the start of the spring rainbow season in the creeks. Spawning rainbows can be caught in the streams using flies, egg sacks, and worms. Resident brown trout can be caught in the creeks as well using the same techniques.
The new walleye and northern pike opener starting this year is now on May 1. Walleyes were stocked in Owasco Lake starting back in the late 90s. It was one of the most successful angler co-ops in New York state history. Unfortunately, the NY DEC gave into complaints by trout anglers of walleye eating the trout and discontinued the walleye stocking. Large walleye are still in the lake and many warm water anglers would like to see natual reproduction populate the lake.
Owasco has a very good population of northern pike. Both ends of the lake and area weed beds support the pike. Try casting bass baits such as spinners or plugs for action. Many anglers catch quality fish on using live minnows underneath a bobber.
Summer
When summer comes around, the bass fishing on Owasco can be very good. Anglers score well with hard and soft bait lures. Fishermen using live bait such as minnows and crawfish catch lots of both smallmouth and largemouth bass. New opening date for bass will now be June 15.
As the water warms on Owasco, many fish start to head out into deeper waters to follow the bait fish. Try fishing during the sunrise and sunset hours for better angling. Owasco during the summer gets load of pleasure boat traffic and serious anglers wait for cooler times of the year to re-visit.
Fall
Fishing on Owasco is very good when the water cools during mid to late fall. Lake tout spawn on deep points in November and trolling and vertical jigging works well. Browns spawn as well in late fall in area streams such as the Owasco Inlet and Dutch Hollow Creek. Try using the same techniques used on spring rainbows.
Warm water fishing for bass, perch, pike, and walleye can be good. Hard and soft baits excel.
Winter
If we get a cold year when the entire lake freezes, you can catch warm or cold-water fish all around Owasco Lake. If it's a warm winter only the very ends may freeze for safe ice. Try vertically fishing in 20-40′ for quality perch. Largest northern pike of the season can be caught through the ice on large minnows fished on a tip up. If you can safely get out into deeper water, trout can be caught through the ice on live bait or by vertically jigging.
So Owasco Lake can be a very good fishing lake. The Iroquois Indians named it just right with the word meaning a crossing. The lake is truly a passage to quality angling.
Fish On!